Subdued Messages From Pharma and Consumer Giants: Earnings Wrap
(Bloomberg) -- European company earnings were mostly subdued, with drugmaker Roche Holding AG issuing cautious guidance and Unilever Plc reporting weak profit margins in the beauty and personal care division.
Among Roche's difficulties are missed hospital appointments due to Covid-19, delaying treatments. Nokia Oyj showed the Reddit day traders who caused the stock to surge last week that the underlying business is not so rosy, with sales continuing to fall. Royal Dutch Shell Plc reported a slump in fourth-quarter cash flow, and Commerzbank AG racked up a $3.5 billion loss tied to the pandemic.
There was better news from Sweden's Nordea Bank Abp, with CEO Frank Vang-Jensen saying Nordic economies are handling the crisis well. Deutsche Bank AG posted its first annual profit in six years. Another winner was French software firm Dassault Systemes SE, which posted a strong fourth quarter.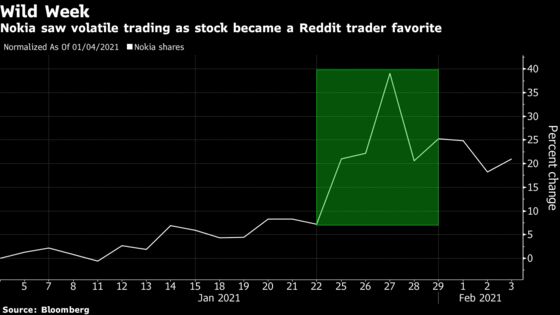 Thus far, earnings for the fourth quarter have beaten expectations by 13% in the largest positive surprise since the global financial crisis, Goldman Sachs Inc. strategist Peter Oppenheimer said in a note on Friday. The latest round of Covid-19 restrictions had a "notably smaller" impact on earnings than the first lockdowns given factories and schools largely remained open, Oppenheimer added, while predicting earnings in 2021 will rebound by 40% year-on-year. The Stoxx Europe 600 equity index is up about 2% year-to-date and more than 45% since the March 2020 low.
Europe Stoxx 600 Index rises 0.2% in fourth day of gains.
Roche Forecasts Modest Growth Amid Pandemic, Biosimilars
Nokia Sees Revenue Drop in 2021 as It Fights for Market Share
U.K. Vaccinates 10 Million; Africa Gets Covax: Virus Update
Here's the top earnings news for today by sector:
Commerzbank said Wednesday night that it expects to post a loss of almost 2.9 billion euros ($3.5 billion) for 2020 after taking big writedowns tied to the pandemic and booking restructuring charges for a massive cost-cutting program. The stock declined as much as 3.2%.
Deutsche Bank closed out a bumper year for trading with a result that beat most Wall Street peers, handing Chief Executive Officer Christian Sewing the first annual profit in six years as he leans increasingly on the investment bank. Bloomberg reported the trading boost earlier this week. The shares slipped 2.3% with Citi saying the outlook lacked detail.
Nordea Bank beat analyst estimates for the fourth quarter thanks to smaller impairments than feared and a top line that was slightly better than the market had anticipated. The figures were robust, according to Jefferies, and the stock rose 4%.
Danske Bank A/S said it expects profit this year to be at least double the level reached in 2020 as the lender continues to cut costs even as markets improve. The shares added 4.1%.
Royal Dutch Shell Plc's adjusted profit for the fourth quarter missed consensus, though Morgan Stanley said the miss wasn't as bad as that of some peers, and noted the stock has recently given up some strength. The shares edged up 0.7%.
Aker BP ASA reported net income in the quarter that beat the average analyst estimate. The stock fell after CEO Karl Johnny Hersvik said the company will reassess Barents drilling after the next two wells are drilled.
Nokia said it expects revenue to continue to drop this year as the telecommunications equipment maker that was recently a favorite among Reddit-focused traders battles market share losses and falling prices in some markets. Liberum said fourth quarter sales were a beat. The stock struggled for direction.
Infineon Technologies AG reported total segment profit for the first quarter that beat the average analyst estimate. Liberum noted the firm will be increasing its investments in manufacturing capacity. The shares were little changed.
Dassault Systemes 2021 revenue guidance missed consensus, though Jefferies said the fourth quarter was a beat and the margin outlook was in line with estimates. The shares jumped 5.8%.
BT Group Plc reported adjusted Ebitda for the third quarter that beat the average analyst estimate and the stock added 2.4%. Analysts at Berenberg said the results were "reassuring" and called Openreach the highlight.
Swisscom AG forecast profit for 2021 that was in line with forecasts and the shares edged up 0.4%.
Unilever's underlying sales for the fourth quarter topped consensus, but the stock fell 3.6% as Citi said margins were worse than feared and noted a lack of quantitative guidance. Bernstein said the second half underlying Ebit margin miss was driven by weak margins in beauty and personal care as well as home care categories, while food and refreshments were better.
Pandora A/S posted Ebit for the fourth quarter that missed the average analyst estimate, while revenue and net income beat. Growth guidance is likely to disappoint, RBC said. Still, the shares rose 2.8%.
Roche forecast modest growth in annual sales and profit as cheaper biosimilar copies of its aging cancer medicines keep eroding drugs revenue and as the pandemic delayed treatments. The shares lost 0.6%.
Outokumpu Oyj reported adjusted Ebitda for the fourth quarter that beat the average analyst estimate. Morgan Stanley noted good cost performance at the steel group and the shares rose 1%.
Norske Skog ASA posted profit for the fourth quarter that exceeded consensus and the shares gained 1.8%.
ABB reported fourth-quarter profit that beat the average analyst estimate, but the stock slipped 3% as Jefferies said a "vague" outlook suggests estimate downgrades will follow.
Securitas AB's adjusted earnings per share for the quarter missed consensus. The stock fell 1.6%.