Struggling Sugar Giants Turn to Machines for a Trading Edge
(Bloomberg) -- The world's largest sugar traders are turning to algorithms in a bid to better cope with the rising influence of funds that track trends rather than market fundamentals.
Brazilian sugar giant Raizen and France's Sucres et Denrees SA have forged partnerships to develop models that will help predict price moves. Alvean, the top sugar trader, Louis Dreyfus Co. and ED&F Man Holdings Ltd. have opted to hire quantitative traders to develop internal solutions.
Grappling with depressed prices and margins, trading houses are looking to navigate markets increasingly influenced by automated and high-speed trading. Understanding what drives so-called systematic funds could be key this season and next when outside factors like currency and oil swings may have a bigger impact in a fairly balanced sugar market.
"The involvement of systematic traders in sugar is really interesting," Tracey Allen, a London-based analyst at JPMorgan, said in an interview. "In sugar you can get really focused on the fundamentals, but you still have a large proportion of investors that are following the trend in prices."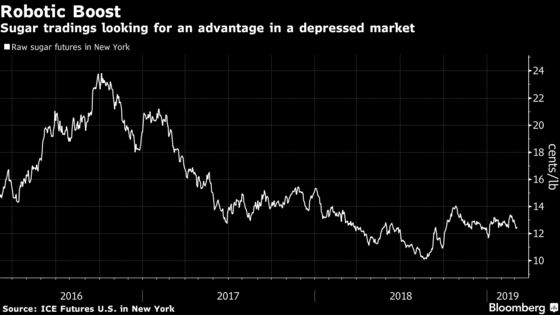 Raizen hired QuantumBlack, a firm controlled by McKinsey & Co., to develop an algorithm that should be ready in about a year, people familiar with the matter said in February. In addition to broader market data, the analytics will include historical data from Raizen's 860,000 hectares (2.1 million acres) of cane to help predict changes in supply.
Sucres et Denrees is working with a third party to test models that would incorporate some proprietary data including supply and demand forecasts as well as trade-flow figures, said Thierry Songeur, managing director of the Paris-based firm. The partnership started about six months ago and the models would help Sucden get some of the same buy and sell signals that many trend-tracking funds use, he said, declining to name the partner.
"The idea is to see whether there's space to develop something like this with resources that are more in line with the size of the sugar market," Songeur said in an interview last month in Dubai. "Many funds are doing it but in a much larger scale."
Alvean, a joint venture between Cargill Inc. and Brazilian producer Copersucar SA, hired Olivier Pairault from hedge fund Andurand Capital Management and Garen Bakalian, previously with Italian oil major Eni SpA, to boost its quantitative trading strategies, according to a person familiar with the matter, who asked not to be identified because the information is private.
Louis Dreyfus brought over data scientist Charlie Quaradeghini about a year ago from Engelhart Commodities Trading Partners, or ECTP, according to people familiar with the hiring. ED&F Man is in the process of growing its quantitative data analytic capability to leverage its proprietary data, including fundamentals and physical prices, said Head of Research Kona Haque.
"The objective is to aid commercial decision making and take advantage of the huge amount of data we generate," she said in an interview in Dubai.
While there's no data available for the share of trend-following funds in the sugar market, a study by Richard Haynes and John Roberts of the U.S. Commodity Futures Trading Commission showed that the increase in overall automated trading has been particularly evident in physical commodity futures contracts, with the biggest increases registered in agriculture and energy.
"There is evidence to suggest that systematic trading causes some very short-term and short-lived price distortions," said Eleanor Taylor, junior research analyst at Marex Spectron. "These are usually intra-day. The market ultimately finds the new equilibrium based on the prevailing fundamentals."