Strong Advanced Economies Fuel Record 2018 Remittance Flows
(Bloomberg) -- Remittances to low- and middle-income countries are projected to jump by almost 11 percent this year to a record of $528 billion in 2018, according to the latest edition of the World Bank's Migration and Development Brief. This increase is on top of a 7.8 percent gain last year.
When high-income countries are included, 2018 total global remittances are approaching $700 billion this year and are expected to grow 3.7 percent to $715 billion next year, as remittance to low- and middle-income countries are expected to grow at a slower pace of 4 percent in 2019.
"The future growth of remittances is vulnerable to lower oil prices, restrictive migration policies, and an overall moderation of economic growth," said Michal Rutkowski, senior director of the World Bank's Social Protection and Jobs Global Practice.
The strong economy and employment situation in the U.S. was a key driver of remittance growth, according to the report, which specifically cited Latin America and the Caribbean, South Asia, and sub-Saharan Africa as beneficiaries.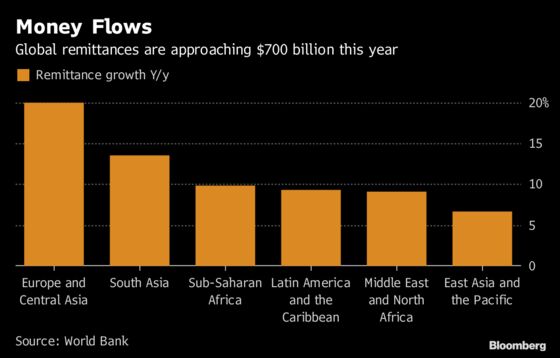 In particular, remittance recipients were led by India with a total of $80 billion this year, followed by China's $67 billion, Mexico and the Philippines with $34 billion each, and Egypt with $26 billion.
Remittance flows to the East Asia and Pacific region are expected to grow by 6.6 percent in 2018 to $142 billion, 1.5 percentage points higher than the growth rate in 2017. Remittances to the region are expected to reach $148 billion in 2019.
Remittances to South Asia are projected to increase by a robust 13.5 percent to $132 billion in 2018. "The upsurge is driven by stronger economic conditions in advanced economies, particularly the United States" the report said.
The strong U.S. economy and labor market, where the majority of Latin America and the Caribbean migrants come from, are expected to see flows to Latin America and the Caribbean reach $87 billion this year and over $90 billion in 2019. Mexico and Central American countries are the main beneficiaries.
Remittance flows to countries in Europe and Central Asia remained robust in 2018, rising by about 20 percent, reaching a new record high of $63 billion, they are expected to pass $65 billion next year.
The global average cost of sending $200 is 6.9 percent, more than double of the "3 percent by 2030" target set by the UN Sustainable Development Goal as a key metric to reduce inequality.