April Snows Bring Winter-Like Feel to Chicago, Upstate New York
(Bloomberg) -- Winter was absent across a large part of the U.S. for months. Now, it won't say goodbye.

Chicago may get as much as 2 inches (5 centimeters) of snow overnight, and upstate New York might face more across the Catskills as a storm rushes across the Great Plains Thursday and then sweeps through the Northeast on Friday into the following day, the National Weather Service said. Manhattan and the other boroughs will get rain because of higher temperatures.

"There is a system out by Wyoming headed due east," said Tony Fracasso, a forecaster with the U.S. Weather Prediction Center in College Park, Maryland. "It is streaking eastward."

The main band of snow on Thursday will be in Iowa and Nebraska with as much as 5 inches. The pattern may pass south of Chicago overnight and roll across the New York-Pennsylvania western border on Friday and into northern New England on the next day, he said. While Chicago is on the strom's northern fringe, Boston may wind up on the southern edge of the wintery weather and pick up an inch or two.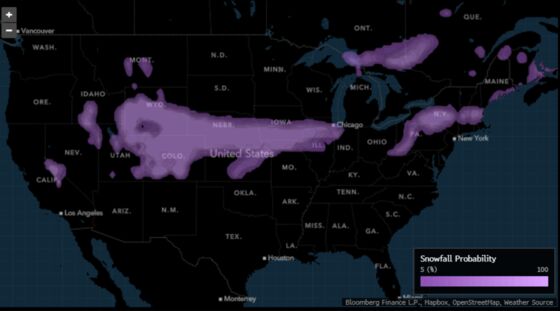 Two larger systems roared across the U.S. earlier this month. The first brought heavy snow across the upper Midwest and Great Plains last week, while the second touched off a spate of tornadoes that killed at least 30 people across the South and knocked out power to more than 1.3 million from Texas to Maine.

The sun this month is high and the ground has been warm in many areas, meaning the snow won't stick around, Fracasso said. "Typically, in April, you need to have it snow overnight. and then it melts over the course of the day."