Strategists Butt Heads on Materials Stocks as Trade War Drags On
(Bloomberg) -- JPMorgan Chase & Co. is taking a more optimistic view on the materials sector for next year, expecting a resolution to geopolitical trade tensions and a global economic recovery in 2020. That bullish view stands in stark contrast to strategists at Bank of America Corp., who think that any economic rebound may not be enough to offset concerns about the sector's fundamental outlook.
The materials group is mostly comprised of cyclical stocks, and it's heavily reliant on global economic data. No surprise, then, that it's been whipsawed by U.S.-China trade rhetoric, given the exposure to commodities and the Chinese economy.
But JPMorgan strategists led by Dubravko Lakos-Bujas have a positive view for the global economy heading into 2020 and believe materials are poised to benefit from a recovery.
"Rotation from momentum into value (that began end of Aug.) [will] persist as the global business cycle re-accelerates and puts upward pressure on bond yields and commodities," the strategists wrote in a note. JPMorgan upgraded its recommendation on the sector to overweight from neutral on Monday, saying these companies are more leveraged "to the global business cycle recovery than their domestics peers," while offering a "diversified reflation play" ahead of the new year.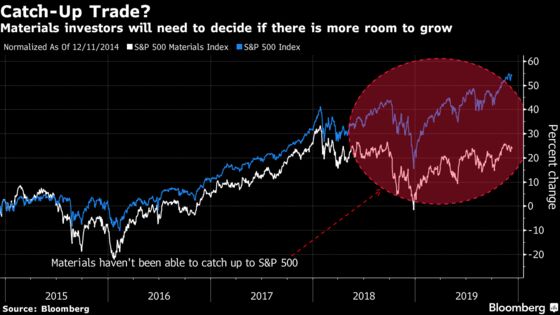 The S&P 500 Materials index tracked the S&P 500 fairly closely since at least 2015 until 2018, when trade war threats derailed performance and led the market to slump at year's end. But the benchmark S&P 500 has since recovered a whopping 33% from its 2018 low versus material stocks' 26% gain, implying there could be more room for the latter to grow.
Bank of America strategists led by Savita Subramanian agreed that materials are likely to be one of the biggest beneficiaries of any potential resolution to the U.S.-China trade dispute, as they are most exposed to China. But the bank cautioned investors about the "deteriorating fundamentals" in the sector. "Even with a trade deal, our economists forecast only a small rebound in the overall economy, which may not be enough to drive demand to offset new chemical/steel supply coming online," the strategists wrote in a note to clients.
Depending on what camp investors are in, materials could be either a very lucrative trade or a dud even if the tariff war is resolved next year. Adding to the cloudy outlook is the possibility that this year's rally in materials might mean that positive sentiment is already priced-in to the stocks, according to Goldman Sachs strategists including Peter Oppenheimer.
"The 10% rally in equities since August, the increase in valuations, and the strong rotation of sector leadership towards cyclicals (away from defensives) implies that a decent rebound in growth momentum and global [purchasing managers' indexes] is fully expected," the strategists wrote.