Strategist Who Called Europe Stock Slide Sees More Gloom in 2019
(Bloomberg) -- Societe Generale SA's strategist who predicted this year's European stock market slide says traders should prepare for a rough 2019.
"It'll be another tough year for stock investors," Roland Kaloyan, the head of European equity strategy at SocGen, who in January was the only analyst surveyed by Bloomberg to forecast a drop in the Stoxx Europe 600 this year, said by phone. "You have less growth and tighter monetary policy, which isn't a good mix for European stocks."
As if this year's European equity collapse -- which wiped out as much as $2.5 trillion in market value -- wasn't bad enough, Kaloyan expects the Stoxx 600 to lose about 16 percent next year and finish 2019 at 300 points, a level not seen since mid-2013. The strategist sees slower economic growth coupled with an interest rate increase by the European Central Bank in September as the main factors hurting stocks.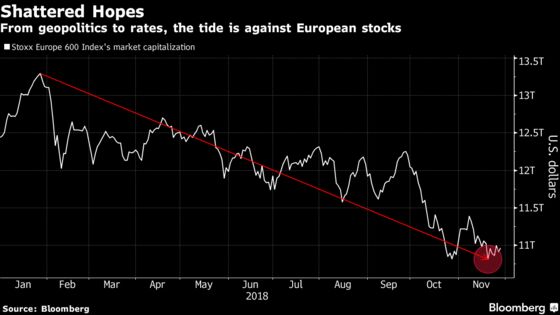 Back in January, Kaloyan's negative forecast for European equities looked contrarian, when the average analyst estimate called for a 5.5 percent advance in 2018 and as many investors were optimistic about the region's prospects after last year's rally. Aside from concerns over trade, politics and higher U.S. rates, the SocGen strategist was also concerned about the rising levels of short positions on volatility, which sparked a sharp sell-off in February. The Stoxx 600 is down about 7.7 percent this year compared with a gain of 2.3 percent for the S&P 500 gauge.
It also doesn't help that European stocks remain highly sensitive to the swings in the U.S. equity market, which SocGen expects to drop about 13 percent in 2019, as investors will be bracing for the next U.S. economic downturn.
"We expect the U.S. recession to start in mid-2020, and stock markets will start pricing that in ahead of time," Kaloyan said.
In the first half of 2019 however, European equity investors might enjoy a little rally, especially if the U.K. manages to pass a Brexit deal that will remove uncertainty from European stocks, the strategist said.
In preparation for next year's doom and gloom, SocGen has started positioning more defensively, lifting its recommendation for European consumer staples to overweight and recommending oil and pharmaceutical sectors. But Kaloyan says they continue to hold some cyclical sectors, such as beaten-down automakers, in case stocks bounce in the first half of 2019. In terms of regions, the strategist recommends focusing on the "more predictable" French and German stock markets, as well as Swiss equities due to their heavy exposure to pharmaceuticals, combined with the appeal of the Swiss Franc.