Latest Prediction for ETF Industry That Won't Quit? $25 Trillion
(Bloomberg) -- Bullishness on exchange-traded products continues to reach giddy heights.
Assets housed in global ETPs will more than double over the next seven years, Matteo Andreetto, chief executive of Deutsche Boerse AG's Stoxx Ltd., said in a Bloomberg TV interview Thursday. The figure will likely hit $15 trillion by 2025, with some asset managers he works with seeing the figure closer to $25 trillion by then, according to Andreetto, who heads one of Europe's largest index providers.
"We've seen a significant shift from active into passive over the past few years," he said. "Every single layer of benchmarking is growing because of the inefficiencies of active managers."
The call places Andreetto among the more bullish ETF forecasters, especially compared with those who say emerging cracks in the U.S. equity bull market will drive a return to active strategies. But he's hardly the only fund or index provider making optimistic predictions. BlackRock Inc. for instance said that half of U.S. investors will own an ETF by 2020 in a recent letter to shareholders. State Street Global Advisors's Jim Ross estimates that ETF assets will reach $25 trillion globally by the end of 2025.
Today, the global ETP industry oversees about $6.8 trillion, according to data compiled by Bloomberg. In the U.S. alone, investors have poured $181 billion into passive products, a slower pace than last year, when they added $389 billion through June.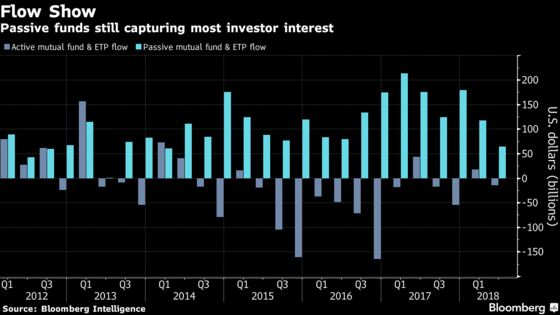 In February, investors slammed the sell button amid the return of volatility, with the world's largest ETF -- State Street's S&P 500 offering (ticker SPY) -- seeing a record outflow in the week ending Feb. 9, erasing the previous nine weeks' worth of accumulations.
Still, flows into passive products this year dwarf the $3 billion that has poured into active funds, the data show.
Among ETFs seeing the highest growth rates are those tracking thematic and factor-investing strategies, according to Andreetto.