Henri Nearly a Hurricane, Aims for Long Island, New England
(Bloomberg) -- Tropical Storm Henri is on course to inundate coastal areas of the U.S. Northeast with flooding rains, a dangerous storm surge and thrashing gales when it comes onshore at or near hurricane strength.
On the forecast track, Henri's expected to make landfall on Long Island or in southern New England on Sunday, the U.S. National Hurricane Center said in a 5 a.m. advisory. 
Henri's sustained winds were blowing at 70 miles (113 kilometers) per hour in the Atlantic, with higher gusts, similar to late Friday night and just 4 mph shy of hurricane status, the center said. 
It's expected to strengthen into a hurricane on Saturday and would be the first hurricane to make landfall in New England in three decades. 
Hurricane warnings are in effect across a broad swath of eastern Long Island and parts of Connecticut and Rhode Island. 
Tropical storm watches and warnings extend all the way to New York City and New Jersey, and a hurricane watch stretches as far as Sagamore Beach, Massachusetts and Martha's Vineyard. 
"Henri appears to be slowly gaining strength," John Cangialosi, a senior hurricane specialist at the center, wrote in his forecast. "Dangerous storm surge inundation is expected to begin Sunday in portions of Long Island, Connecticut, Rhode Island, and southeastern Massachusetts."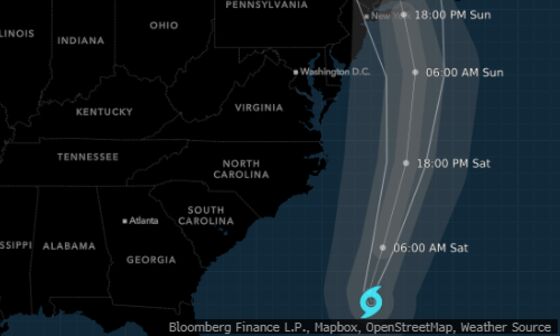 A storm surge warning means there's a danger of life-threatening inundation from rising water moving inland from the coastline. The storm could also kick up a tornado or two over southern New England, the NHC said. 
Henri is the latest in a string of menacing weather events unfolding around the globe as climate change fuels extreme weather. Massive wildfires are ablaze in California, Greece, Algeria, France and elsewhere. July was the hottest month ever recorded on Earth.
Henri will likely make landfall as a Category 1 hurricane on the five-step Saffir-Simpson scale, with winds from 80 to 85 miles per hour, the hurricane center said. It will then weaken to a tropical storm as it drives into interior New England and will likely be lingering in central Massachusetts on Monday. 
Utilities are bracing for power outages. Eversource Energy, which serves Connecticut and Massachusetts, said it's closely monitoring forecasts. Con Edison, which serves much of the New York City region, is "preparing for a worst-case scenario" and lining up 1,200 workers from other utilities to help restore service.
Beaches on Cape Cod and the islands of Martha's Vineyard and Nantucket, as well as along the Rhode Island coast are popular summer tourist destinations. Massachusetts Governor Charlie Baker urged travelers to avoid the Cape this weekend and also activated the National Guard to assist in emergency operations. 
The Boston area's Massachusetts Bay Transportation Authority will cut back on some services starting Sunday. 
Winds could tear down trees, knock over signs and blow around debris, as well as damage smaller buildings across Long Island and New England, but parts of New York and New Jersey could also feel the effects, the weather service said. There is also a chance of isolated tornadoes. 
The ocean could rise as much as 4 feet (1.2 meters) in Flushing, the East River and along Long Island's shoreline, and as much as 5 feet from Watch Hill, Rhode Island, to Sagamore Beach on Cape Cod. In addition to the surge, 3 to 6 inches of rain will likely fall across Long Island and southern New England, with some areas getting up to 10 inches.
Henri's first landfall is likely to be near Montauk, Long Island, before it crosses the sound and hits somewhere along the Connecticut-Rhode Island coast, said Jim Rouiller, lead meteorologist for the Energy Weather Group. This would be bad for Massachusetts and the rest of eastern New England because the strongest winds are usually on the righthand side of the track. 
A landfall in New England still isn't "set in stone," said Rob Carolan, owner of Hometown Forecast Services, which provides outlooks for Bloomberg Radio. The storm is still drifting west and that could mean the Outer Banks of North Carolina get grazed as it comes north, and New York City still needs to watch out. 

"New York City is still in play," Carolan said. "I am concerned that folks in New York City, eastern Long Island, and even New Jersey still need to watch this thing." 
While storms in New England tend to move quickly, Henri will slow down as larger weather patterns exert their influence. It will take nearly a day and half from the time it makes landfall to when it starts to move through Maine.
Hurricane Isaias ripped up the East Coast last year, knocking out power to millions in New Jersey and New York. Hurricane Irene touched off massive flooding across New England in 2011 after roaring over Manhattan. The entire Northeast was devastated by Superstorm Sandy in 2012, which caused $77.4 billion in damage.
Henri threatens 30 years after Hurricane Bob tore across eastern Massachusetts. In September 1938, the region was hit by one of its worst storms ever when a hurricane killed hundreds of people.