Stocks So Cheap It's Like $8 Trillion EM Rally Didn't Happen
(Bloomberg) -- Emerging-market stocks are back to square one.
The MSCI Emerging Markets Index has seen its valuation tumble to levels last seen before the start of an $8 trillion upswing in January 2016, according to data compiled by Bloomberg. Its ratio of price to estimated earnings now hovers just above 10 times, the cheapest P/E multiple since Russia annexed Crimea almost two years before the developing-nation advance got under way.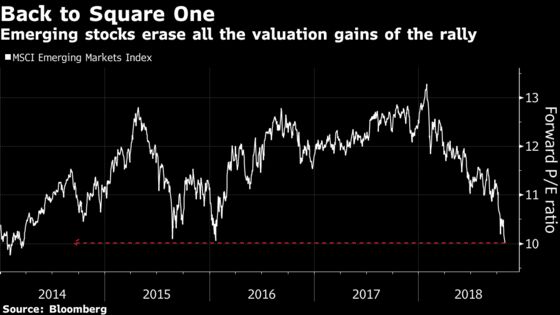 This is both good news and bad news for investors.
Expectations for profits at emerging-market companies have jumped 39 percent since March 2016. That means part of the depression in valuations has come from improved earnings prospects, which are the denominator in the P/E equation, even though a bigger part has come from the $5.4 trillion rout since January this year.
So investors are able to buy the stocks at the same price multiple as in March 2016 when the companies had lower profitability. This is the kind of bargain that so-called "value investors" typically hunt for.
However, the falling valuations are also a reflection of the loss of confidence in the asset class. The cost of equity capital, or the rate of return sought as compensation for companies' perceived risks, has remained high despite improved profitability making them safer for investors.
The MSCI stocks gauge fell for a fifth successive day, taking its valuation to 10.01 times, the lowest level since March 2014.