Stocks Close Near Session Lows While Crude Jumps: Markets Wrap
(Bloomberg) -- The surge in energy prices fueled stock volatility amid an intensifying debate on whether inflation pressures will be transitory or derail the economy. 
Traders also assessed a news report that China is expanding its crackdown to banks. The S&P 500 closed near session lows. West Texas Intermediate crude climbed above $80 a barrel for the first time since late 2014 as a power crisis from Europe to Asia boosts demand for oil. Aluminum, the energy-intensive metal that's used in everything from beer cans to iPhones, hit a 13-year high. Treasury futures fell, with the cash market closed for Columbus Day.
The widespread rally in commodities has unsettled traders, with supply bottlenecks raising doubts about whether stock valuations can be stretched any further. Meantime, policy makers are seeking to balance the withdrawal of stimulus with concerns that growth may have peaked amid inflation pressures. Corporate earnings will be the next key test for the equity market.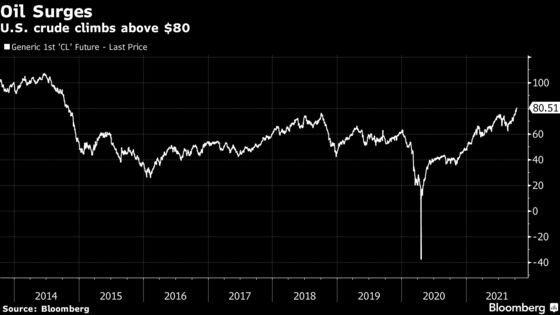 "Third-quarter earnings season begins this week, and the topic of inflation will be front of mind," said David Joy, chief market strategist at Ameriprise. "The extent to which margin pressures from rising input costs can be offset by pricing power will be scrutinized closely."
Read: Guidance Could Be 'Ugly' This Earnings Season, BofA Says
Elsewhere, Bitcoin climbed above $57,000 for the first time since May. As in past rallies, a myriad of reasons are being cited for the surge -- from an easing of concern about regulatory efforts in the U.S. and China, as well as renewed optimism about a possible Securities and Exchange Commission approval of a cryptocurrency exchange-traded fund.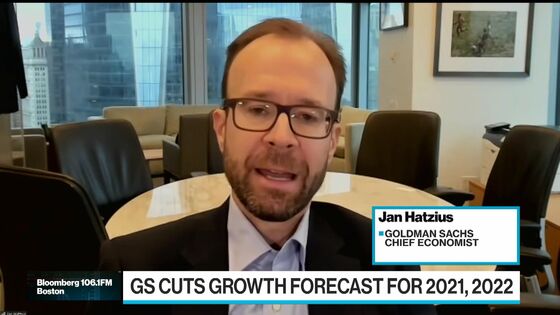 Here are a few events to watch this week:
Bank of Korea policy decision and briefing Tuesday
Atlanta Fed President Raphael Bostic speaks on inflation Tuesday
U.S. FOMC minutes and CPI Wednesday
China PPI, CPI Thursday
U.S. initial jobless claims, PPI Thursday
For more market analysis, read our MLIV blog.
Some of the main moves in markets:
The S&P 500 fell 0.7% as of 4 p.m. New York time
The Dow Jones Industrial Average fell 0.7%
The MSCI World index fell 0.3%
The Bloomberg Dollar Spot Index rose 0.3%
The euro fell 0.2% to $1.1550
The Japanese yen fell 1% to 113.39 per dollar
Germany's 10-year yield advanced three basis points to -0.12%
Britain's 10-year yield advanced three basis points to 1.19%
West Texas Intermediate crude rose 1.4% to $80.44 a barrel
Gold futures fell 0.2% to $1,753.90 an ounce