Stocks 'Ripe for a Bounce' Says Strategist Who Foresaw October Sell-Off
(Bloomberg) -- A strategist who in mid-September saw stocks as "ripe for volatility" now says it's time for the market to recover.
Canaccord Genuity's Tony Dwyer writes in a note that "the recent weakness sets the stage for a market ripe for a bounce." Dwyer estimates the S&P 500 will finish 2018 around 3,200, the most bullish estimate on the Street.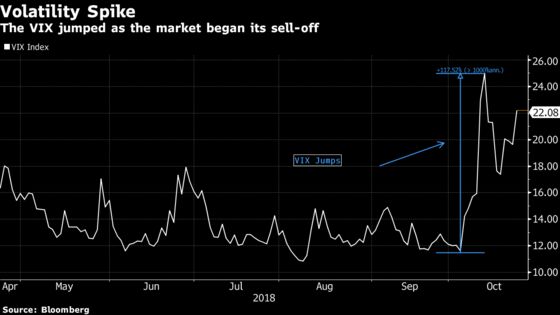 "The market lacks a catalyst, which leaves 'oversold' as the only reason to hit a near-term bottom," says Dwyer. If Republicans hold the U.S. Senate in the mid-term election, it would serve as a catalyst to lift stocks. Another potential catalyst would be if the Federal Reserve "adopts a more dovish 'data driven' stance" or if a resolution to the Chinese trade situation emerges. The report says that "none of these appear imminent" and we are close to an intermediate-term low.
The sell-off has driven some chart indicators that Dwyer watches to levels that suggest stocks have fallen too far, too fast. Among the most pronounced is the Cboe Volatility Index, a gauge of options costs that jumped almost 80 percent this month, from 12 to nearly 22. A level of 20 or higher in the VIX is one of the four indicators followed by the strategist to gauge the potential market turning point.