Stocks in Asia Set for Worst Day Since March on Virus Woes
(Bloomberg) -- Asia's stock benchmark is on track for its worst day since March, as worries over the economic impact from a new Covid-19 variant sparked a global rout that was exacerbated by thin liquidity.
The MSCI Asia Pacific Index slumped as much as 1.9%, with consumer discretionary and financials being the biggest drags. Hong Kong and Japan equities tumbled to lead losses in the region, with some traders away for Thanksgiving celebrations. U.S. futures extended declines, with contracts on S&P 500 and Dow Jones falling by more than 2%, while volatility spiked.
"The fact we have North America off the desks means there's a wall of buyers missing" at a time when there are "scary" headlines about the new Covid-19 variant, said Kyle Rodda, an analyst at IG Markets.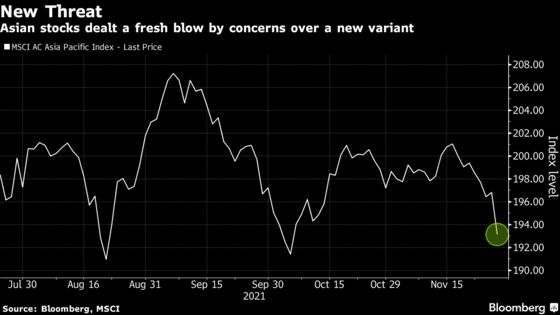 The variant recently discovered in South Africa carries an unusually large number of mutations and is "clearly very different" from previous incarnations, Tulio de Oliveira, a bio-informatics professor who runs gene-sequencing institutions at two South African universities, said at a briefing on Thursday.
The latest virus concerns deal a fresh blow to Asian equities already hurt by worries over weak earnings prospects, an economic slowdown in China and supply chain concerns. Down more than 3% this year, the regional gauge looks poised to end lower for 2021, even as peers in the U.S. and Europe have climbed at least 16% each.
"Even before this news, virus cases were back on the rise in the U.S. and Europe, so investors are now wary of the possibility that, with a new variant, infections could spread all at once," said Masahiro Ichikawa, chief market strategist at Sumitomo Mitsui DS Asset Management.
The Hang Seng Tech Index plunged 3.3% on Friday. Adding to worries for China tech investors, the country's regulators asked Didi Global Inc.'s top executives to devise a plan to delist from U.S. bourses, people familiar with the matter said. Japan's Nikkei 225 slid 2.5% as a stronger yen also weighed on stocks, while Hong Kong's Hang Seng Index sank 2.7%. India's S&P BSE Sensex was on track to post losses of similar magnitude.
"The word is that the new variant is very infectious," said Nobuhiko Kuramochi, a market strategist at Mizuho Securities Co. "There's worry that if the existing vaccines don't work, people will have to resort to lockdowns again."
Japan Airport Terminal, Asiana Airlines other travel stocks across Asia slumped after reports about the new coronavirus strain detected in South Africa
Galaxy Entertainment and peer Macau casino stocks also dropped on the news, with the selling worsened by Hong Kong's confirmation that it had found two cases of the variant in travelers
Sector bellwether Top Glove Corp. and other Southeast Asian glove makers jumped on the possibility the new virus strain causes a surge in demand for protective gear, while diagnostic companies and drugmakers rallied in India
South32 and other Australian mining stocks with exposure to South Africa declined after the discovery of a new coronavirus strain added to sentiment already soured by a drop in iron ore prices
Baidu and peers slid further in Hong Kong in afternoon trading, with China's market regulator issuing draft guidelines that put restrictions on promoting healthcare, drugs, after-school tutoring, cosmetics and other ads
Chinese stocks related to cryptocurrencies and merchant payment services such as Lakala Payment rose after local media brought into focus the central bank's rules to prohibit the use of personal QR codes for business payment from March 1
MSCI Asia Pacific Index down 1.8%
Japan's Topix index down 2%; Nikkei 225 down 2.5%
Hong Kong's Hang Seng Index down 2.7%; Hang Seng China Enterprises down 2.7%; Shanghai Composite down 0.6%; CSI 300 down 0.7%
Taiwan's Taiex index down 1.6%
South Korea's Kospi index down 1.5%; Kospi 200 down 1.8%
Australia's S&P/ASX 200 down 1.7%; New Zealand's S&P/NZX 50 down 1.3%
India's S&P BSE Sensex Index down 2.5%; NSE Nifty 50 down 2.6%
Singapore's Straits Times Index down 1.8%; Malaysia's KLCI Index down 0.4%; Philippine Stock Exchange Index down 1.2%; Jakarta Composite Index down 2.1%; Thailand's SET Index down 2.2%; Vietnam's VN Index down 0.5%
Ono Pharma rose after it received approval for use of Opdivo in two additional indications in Japan
SoftBank Group extended its drop in Tokyo to 5.2% after China regulators asked Didi Global to devise a plan to delist in the U.S. due to security concerns
Meituan slumped 3.9% in Hong Kong to the lowest since Oct. 8 before the technology giant reports its 3Q results, which are expected to show wider losses