Stocks Rebound for Third Day After Earnings, Data: Markets Wrap
U.S. stocks rose and Treasuries slumped anew as the rebound in risk assets from the trade-fomented sell-off continued.
The S&P 500 capped a third day of gains, but faded into the close to finish just above its average price over the last 50 sessions. Solid earnings from Cisco Systems Inc. and Walmart Inc., along with strong housing data, boosted shares. However, trade tensions remained in the background as the Trump administration threatened to blacklist China's Huawei Technologies Co. and Walmart warned tariffs would lead to higher consumer prices. The 10-year yield topped 2.39% and the dollar strengthened.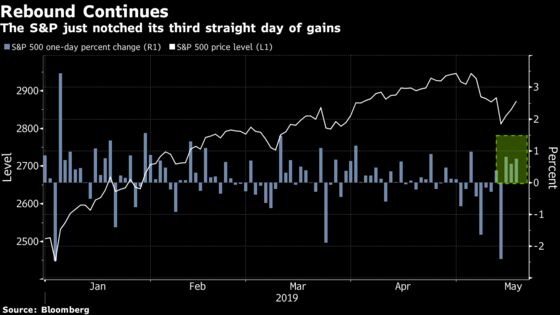 "This has become a pattern where you get a big aggressive statement from the administration that might impact trade and then the market reacts aggressively as it did on Monday and then it seems to back off," Chicago-based Susan Schmidt, head of U.S. equities at Aviva Investors, said in an interview. "Business is still doing well. I think if the market can stay focused on the facts and the data, then I think the market will hold."
Strong economic data and earnings, along with hints from the Trump administration that it may be willing to compromise on trade has helped stocks bounce back from the battering they took when the tariff battle with China flared last week. But the headlines have come fast and furiously, most recently President Donald Trump signed an order that's expected to restrict Chinese telecommunications firms from selling in the U.S.
Elsewhere, the pound dropped for a ninth day versus the euro -- the longest losing streak since 2000 -- as U.K. Prime Minister Theresa May faced a new threat to oust her. Emerging market shares fell for the third time in four days.
Here are the main market moves:
The S&P 500 Index rose 0.9% as of 4 p.m. New York time.
The Nasdaq 100 gained 8%.
The Stoxx Europe 600 Index advanced 1.3%.
The U.K.'s FTSE 100 Index gained 0.8%.
The MSCI Emerging Market Index dipped 0.6%.
The MSCI Asia Pacific Index decreased 0.5%.
The Bloomberg Dollar Spot Index gained 0.3%.
The euro dipped 0.2% to $1.1174.
The British pound decreased 0.4% to $1.2795, reaching the weakest in three months.
The Japanese yen fell 0.2% to 109.83 per dollar.
The yield on 10-year Treasuries climbed two basis points to 2.40%.
Britain's 10-year yield rose one basis point to 1.074%.
Germany's 10-year yield gained less than one basis point to -0.10%.
West Texas Intermediate crude increased 1.7% to $63.08 a barrel.
Gold fell 0.8% to $1,286.80 an ounce.