Stocks in India Close Near Record as Pace of Virus Cases Slows
(Bloomberg) -- India's key stock gauge climbed for a fourth day to close near a record high as investors remained optimistic the economy will rebound strongly from the world's worst coronavirus outbreak.
The NSE Nifty 50 Index rose 0.6% to 15,301.45 on Wednesday amid gains in Asian equities. The gauge had closed at an all-time high of 15,314.70 on Feb. 15. It is up 9.4% so far in 2021, outperforming the MSCI Asia Pacific Index by about six percentage points. The S&P BSE Sensex rose 0.8%.
The milestone comes as India is attracting all the global attention for the virus disaster. Money managers are counting on a consumption-led economic rebound and the nation's long-term growth prospects to support corporate earnings and equity valuations.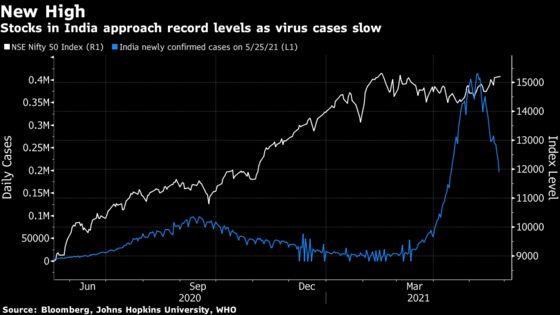 "We are in the middle of an equities cycle that is fueled by liquidity the global central banks have been infusing," said Amit Jain, chief strategist at Ashika Group in Kolkata. "There is still room for this rally," he said, adding that the Nifty index could touch 17,000 this year.
In recent days, the slowing pace of new infections in India has boosted hopes of a gradual resumption of business activities curtailed by localized lockdowns. Daily cases have halved from a peak of more than 400,000 earlier this month.
Several states are starting to announce a slow rollback of restrictions as caseloads fall, suggesting the peak hit to economic activity will be seen in May, with conditions improving in June, Nomura Holdings Inc. analysts Sonal Varma and Aurodeep Nandi wrote in a note this week.
"We remain positive on India's business cycle and expect GDP growth of 9.8% in 2021," they wrote. "Our analysis of international evidence suggests that the hit to economic activity will be significantly less than what the drop in mobility suggests."