U.S. Stocks, Bonds Rally as Election Bets Retooled: Markets Wrap
Investors frantically bid up technology and drug stocks Wednesday, sending major averages to the biggest rallies in five months, as they grew more confident that the tightly contested outcome would ensure key elements of the bull market remain intact for years to come.
A narrow victory by either Democratic challenger Joe Biden or President Donald Trump, coupled with a split legislature, will make it unlikely that Trump's 2017 corporate tax cuts -- an important driver to stock gains -- are rolled back, as Biden has pledged to do. The failure by the Democrats to clearly sweep Congress and the White House does pare back bets that traders had made on a massive fiscal stimulus package, though some aid remains likely this year. At the same time it adds to pressure on the Federal Reserve -- another crucial force behind the bull market -- to pump money into an economy that was throttled by the pandemic.
After the cash close in New York, Equity futures rose in Japan and Hong Kong, and the offshore yuan advanced.
The uncertainty over the vote that whipsawed markets overnight morphed into fading prospects for a multitrillion-dollar package that investors used to bid up Treasury bonds amid a diminishing of inflationary pressures, sending yields lower by the most since April. The Nasdaq 100 surged more than 4% in its best rally since April. Financial and industrial shares lagged behind as investors turned from companies that are most closely tied to the economy's prospects.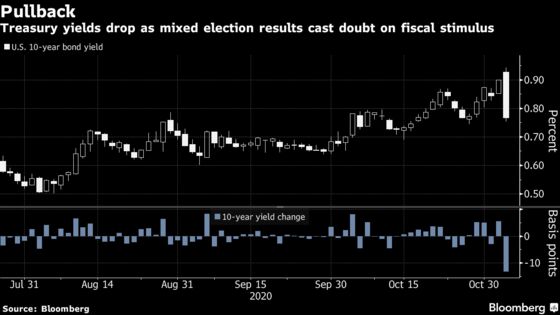 "Part of what is going on is tech is rallying strongly, which is pushing the market up, and the reason tech is rallying is because it sold off, it was uniquely exposed to higher yields, higher taxes," said Alicia Levine, chief strategist at BNY Mellon Investment Management. "That created a viscous reversion trade into cyclicals with the expectation yields were moving up with the prospect of further stimulus."
The 10-year Treasury yield tumbled below 0.80% as traders cheered the prospects for less debt-funded spending. Still, a private payrolls report on Wednesday fell short of estimates and the services sector expanded at the slowest pace in five months.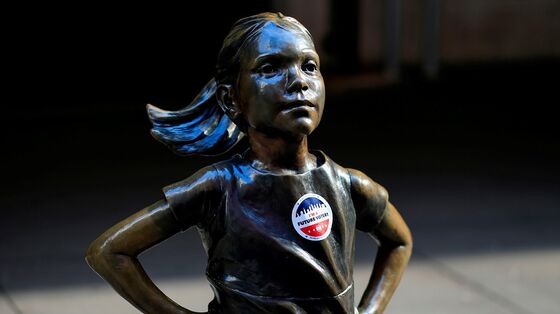 With millions of votes in battleground states still being counted, and close contests in several key states, the presidential outcome may not be decided for days, or longer. The Trump campaign said it is suing in Pennsylvania and Michigan to halt vote counts that were trending toward Biden. It's clear that the election is turning out to be messier and more drawn-out than Wall Street had hoped.
"There will be very little cooperation on fiscal policy, very little cooperation relative to policy related to containing COVID, very little cooperation on infrastructure, or basically anything that will stimulate the economy," said George Pearkes, Bespoke Investment Group's global macro strategist. "If that's the case, then what we've got is a repeat of the last recovery, almost to the letter."
Meanwhile, Uber Technologies Inc. and Lyft Inc. jumped after California voters approved a measure to protect the companies' business models from efforts to reclassify their drivers in the state as employees.
Back in global markets, the dollar weakened against many of its major peers, while gold slipped. In Asia, Alibaba Group Holding Ltd. tumbled 7.5% in Hong Kong after China halted the initial public offering of Ant Group Co., in which Alibaba owns about a one-third stake.
Follow along here for our real-time news updates and analysis.
Read more on the election and markets
These are some key events coming up:
Federal Reserve policy decision on Thursday.
The key U.S. non-farm payrolls report is due Friday.
Earnings are due this week from companies including Bristol-Myers Squibb Co., AstraZeneca Plc and Nintendo Co. on Thursday; Macquarie Group Ltd. and Toyota Motor Corp. are set for on Friday.
These are some of the main moves in global financial markets:
Stocks
The S&P 500 Index jumped 2.2% to 3,443.53 as of 4:00 p.m. New York time, the highest in more than a week on the largest surge in five months.
The Nasdaq 100 Index surged 4.4% to 11,777.02, the highest in almost three weeks on the biggest jump in seven months.
The Dow Jones Industrial Average increased 1.3% to 27,849.84, the highest in more than a week.
The MSCI All-Country World Index climbed 1.9% to 579.11, the highest in more than a week on the biggest increase in 20 weeks.
The Stoxx Europe 600 Index rose 2.1% to 363.31, the highest in more than two weeks.
Currencies
The Bloomberg Dollar Spot Index decreased 0.2% to 1,164.53, the lowest in more than a week.
The euro was little changed at $1.1717, the strongest in a week.
The Japanese yen was little changed at 104.52 per dollar.
Bonds
The yield on two-year Treasuries declined two basis points to 0.14%, the lowest in more than two weeks on the largest decrease in almost 10 weeks.
The yield on 10-year Treasuries sank 13 basis points to 0.77%, the lowest in more than a week on the biggest tumble in more than seven months.
The yield on 30-year Treasuries decreased 14 basis points to 1.55%, the lowest in almost three weeks on the largest tumble in almost seven months.
Germany's 10-year yield fell two basis points to -0.64%, the biggest fall in more than a week.
Commodities
West Texas Intermediate crude gained 3.4% to $38.94 a barrel, the highest in more than a week on the largest rise in more than four weeks.
Gold weakened 0.2% to $1,904.85 an ounce.