Stocks Face 50% Odds of Correction in 2020, Vanguard's Davis Says
(Bloomberg) -- U.S. stocks face a greater-than-usual risk of a sell-off next year, with investors overconfident in an economic resurgence, according to Vanguard Group Inc.'s investment-strategy chief.
"Financial markets run the risk of getting ahead of themselves," Joseph Davis, who also serves as Vanguard's chief economist, said in an interview Friday. He sees 50% odds on a correction in 2020, against what he terms a more typical figure of about 30%.
A correction is often defined as a 10% drop, and the S&P 500 Index hasn't seen one since December 2018, when it came a hair's breadth from entering a bear market -- that is, recording a decline of 20% from the peak.
While this year investors were too pessimistic about recession odds, next year they'll be too optimistic on reflation, Davis said. He also sees a pick-up in U.S. equity volatility from "unsustainably low" levels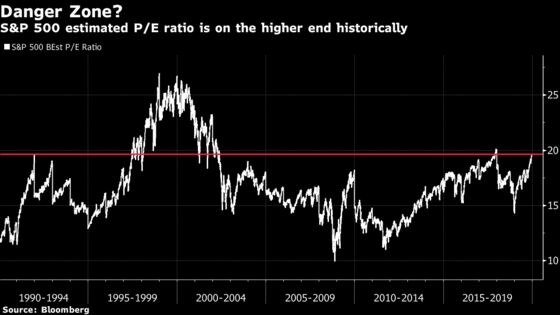 "Across the board, expected returns for most strategies are below trailing three-year returns," said Davis. The investment chief for the $5.6 trillion asset manager -- known more for its passive, index-tracking offerings -- estimates that risk assets are pricing in close to 3% U.S. economic growth, an outcome he sees as unlikely.
Davis said U.S. equities have broken out onto the expensive side of fair value on their price-to-earnings ratio, a measure Vanguard prefers rather than identifying target levels on indexes.
Davis said he'd consider value stocks if he were putting active money to work now, and also sees mortgages looking "a little more attractive than they have for some time." But it might be better to keep the powder dry for now, heading into 2020, as "there will be better entry points," he said.