Dip Buyers Barely Hang On. Stock Bulls Need Them to Stick Around
(Bloomberg) -- Though it got dicey toward the close, dip-buyers stood their ground in the S&P 500 Wednesday, halting a two-day plunge that threatened to put a pall on Thanksgiving. Now we'll see if they stick around.
If you're bullish, you've been longing for the reappearance of traders whose willingness to dive into equities after every slump has helped keep stocks aloft for almost 10 years. By one measure, it's been one of the worst years for these buyers this century.
Morgan Stanley sought to quantify their absence earlier in the week, employing a model that looked at all the times the S&P 500 fell over five days in 2018 and then measured the return on the sixth. This year, the average was negative -- the first time that's happened in 16 years.
"Buy the dip has gone away and instead there is an inclination, possibly, to start selling rallies instead," said Eoin Angus Murray, Hermes Fund Managers head of investment. It "really is a complete reversal for everything we've seen so far for the last several years."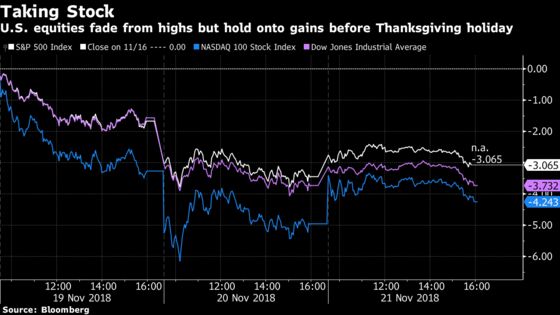 Of course, as stocks' prices fall, so do their valuations. The recent slide has pushed the S&P 500's forward P/E to 15, lower than almost any multiple since 2012. That's cheap enough to get hopes up.
"In my mind, pricing is getting more attractive," Steve Goldman, Kapstream Capital portfolio manager, said on Bloomberg TV. "At some point we'll be back in the market and I would expect a lot of investors are thinking like we are now."
Signs emerged Wednesday that a buyers' strike isn't on. The S&P 500 rose for the first day this week, holding onto gains of 0.3 percent, after earlier rising as much as 1.1 percent. Areas of the market that had been hit hardest, including the FANG complex and energy companies, led gains.
"If you're like us that believes in quality growth companies and long-term prospects, then I think now is the time to be brave rather than fear," said Rebecca Jiang, executive director at JPMorgan.
To be sure, plenty of roadblocks remain. A meeting between President Trump and Xi at the G20 meeting looms, Jerome Powell's Federal Reserve still appears set to raise interest rates again in December, and next year's profit picture remains murky, pushing next year's earnings forecasts lower for the first time in Trump's presidency.
Offsetting that is the strong U.S. economy, with unemployment hovering at record lows. Prospects for continued growth should push investors into companies with sturdy balance sheets and an ability to pay dividends, according to Jim McCafferty, the head of Asia ex-Japan equity research at Nomura.
"People will be tempted to buy now," he said on Bloomberg TV. "Fundamental investors can't ignore the facts. And the facts are very supportive right now."