Stock Winners and Losers Show No Panic Over Rising Wages in U.S.
(Bloomberg) -- With all eyes on Friday's monthly payrolls, it's fair to ask how worried stock investors are over wage inflation. The answer: not very.
A Goldman Sachs basket of shares with the highest estimated labor costs as a percentage of revenue beat their low-cost counterparts by more than 2 percentage points last month, the best relative return since January 2016.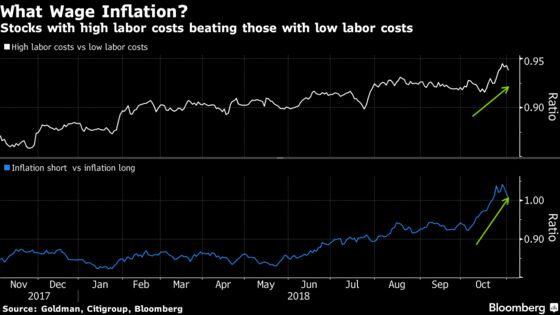 Granted, neither index did well. The low-labor-cost one plunged 9.7 percent. But the comparison suggests the market isn't convinced wage pressures are a preeminent threat for U.S. companies, or at least not the megacaps. Concern about margins has run high with Amazon raising its minimum wage and American's hourly pay in October increasing at the fastest pace since 2009.
One reason wage pressure may not translate into a pressing problem for the largest publicly traded firms is that about one third of the total S&P 500 employment is based outside the U.S., Deutsche Bank estimated. Moreover, rising employee pay means more spending power. Indeed, higher wages have historically associated with faster profit growth, Citigroup found.
"There is a narrative out there about possible margin compression that sounds reasonable," Tobias Levkovich, Citi's chief U.S. equity strategist, wrote in a note in late October. "But the data tells a different tale."
Getting the narrative right has become challenging lately as everything from a trade war to midterm elections to peak growth was flagged as market headwinds. But just because a factor showed up a lot in research reports and news stories doesn't mean it's a major market driver.
Take inflation, another culprit that's often cited for the October selloff and related to wages. Is it indeed hurting stocks? Not really. Citigroup group stocks by whether they do well or badly when inflation rises. Right now, the ones that hurt are rallying, arguably a sign the market doesn't think there's much inflation to fight.