Stock Traders Say Brexit Deal 'Dead in the Water' as Raab Leaves
European stocks sank on Thursday after a number of U.K. ministers including Brexit Secretary Dominic Raab resigned amid a growing revolt against U.K. Prime Minister Theresa May's Brexit deal. The Stoxx Europe 600 was down 1.3 percent in afternoon trading, while the FTSE 100 was down 0.5 percent, as a sharp drop in the pound helped limit the damage for multinational companies. Domestically focused U.K. sectors including banks, home builders and retailers tumbled.
Here are reactions to the news from market participants:
Peter Garnry, head of equity strategy for Saxo Bank
"The resignation accelerates uncertainty again and increases the probability for no deal and chaos in March 2019. The ramifications of such an outcome is too devastating for the U.K./EU so some kind of extension has to be on the table. Current developments underscore our long-held view that investors should avoid general exposure to U.K. equities due to uncertainty. There is no reason to take this specific U.K. risk given the large opportunity set in global equities."
Dean Turner, economist, UBS Wealth Management
"The next 72 hours will be very challenging. I suspect the PM must have factored the resignations in when deciding whether to present this deal to the Cabinet. We have been of the view for some time that up until the PM presents this deal to the house, and there's a very good chance she loses it on the first vote, that's going to be quite a tough time for markets to find any direction because clearly the outcomes on this are so unpredictable."
Chris Beauchamp, chief market analyst at IG Group
"I think it means getting the deal done has just got a lot tougher. If the big names had stuck with her then she might have done it. But we are barely past 9 a.m. and already the situation is slipping out of control. I think the statement to the house will be a very tough one. Likely more GBP weakness, but perhaps near-term FTSE strength. But Brexit has just blown up again, and thrown together with Italy, trade wars, U.S. earnings, risk appetite is unlikely to recover for long."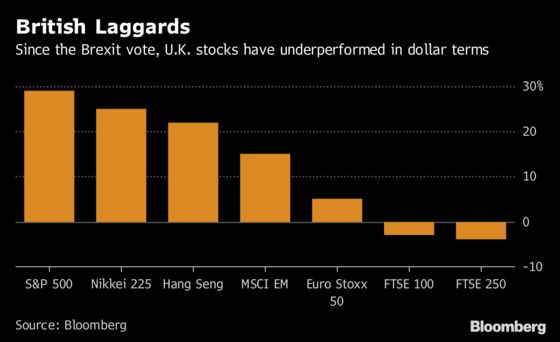 Keith Temperton, sales trader at Tavira Securities
"Raab resigning has hit sentiment in U.K. banks as 10-year gilt yields tumble 10bps. However the weakness in sterling and firm mining stocks have helped FTSE stay in positive territory despite the apparent uncertainty caused by Raab's resignation. Travel names are hit on lower GBP and home builders taking the brunt of the selling."
Naeem Aslam, chief market analyst at Think Markets UK
"The Brexit deal is dead in the water with the resignation of Brexit minister Dominic Raab and this could be the end of the road for May. On the back of this resignation, we are experiencing huge sell orders and the sterling-dollar pair is in free fall for now."
Ian Williams, economist and strategist at Peel Hunt
"From a U.K. equity market standpoint, the immediate knee-jerk reaction is straightforward. When the perceived likelihood of no deal increases, sterling weakens and U.K. domestic sectors would sell off in line with the pound. The chances of a leadership challenge are increasing, which may increase the risk of no deal or even a second referendum. If this deal was passed by Parliament it would be taken positively (by the market), but it looks increasingly difficult for the PM to command the required majority."
Edmund Shing, head of equity, derivative strategy at BNP Paribas
"The markets are clearly putting a lower probability of the U.K.-EU deal getting a yes vote in the U.K. parliament, with the consequent risk of more uncertainty thereafter. We continue to believe, however, that a no vote in parliament does not point to a disorderly Brexit on March 31, 2019. More likely is a temporary extension of this deadline to allow the U.K. to redefine its position post-vote. Which in turn raises the probability of a second referendum and no Brexit at all."