Tech Bounce Looks Short-Lived After Whiffs by Amazon, Alphabet
(Bloomberg) -- It was fun while it lasted.
The bleeding in technology stocks resumed Thursday afternoon as Alphabet Inc. and Amazon.com Inc. sank on disappointing earnings, bringing a quick halt to the flash of investor optimism that had earlier spurred the Nasdaq 100 Index to its biggest gain since March.
Alphabet sank 4.5 percent in extended trading as third-quarter revenue missed estimates, while Amazon tumbled 7 percent after its forecast for sales and operating income in the fourth quarter fell short of projections. Facebook Inc. and Netflix Inc. fell about 2 percent in sympathy, while Apple Inc. dropped 0.9 percent.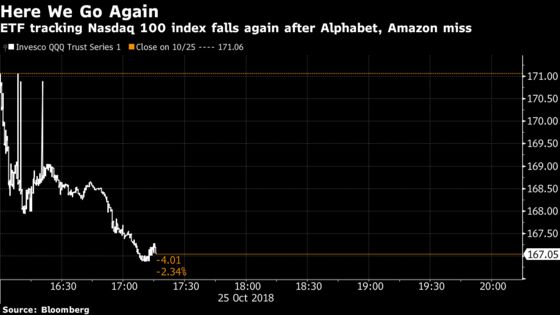 The Nasdaq 100 Stock Index was already on pace for its biggest monthly decline in almost a decade before Amazon and Alphabet's results. An exchange-traded fund tracking the index fell 2.4 percent from its 4 p.m. close in New York.
Mohit Bajaj, director of ETFs at WallachBeth Capital: "The selloff in the after hours does nothing to alleviate investor concern. It shows that we're not out of the woods yet. I don't think it will be better tomorrow. Investors are not optimistic as we approach Friday. They don't want to risk over the weekend."
Mike Bailey, director of research at FBB Capital Partners: "It's going to be tough. You've got a couple of the bigger companies out there and the street was probably hoping for something close to perfect earnings, and if we're not getting that from two of the big FANGs basically, that's going to put a dent in sentiment. It's definitely going to hit the pause button for a while here."
Donald Selkin, chief market strategist at Newbridge Securities: "What a crazy market. I'm sorry they couldn't do better. That would have finally turned the corner but it looks like it's not enough. We'll probably open lower tomorrow and hopefully we'll rally from there but it will be extremely volatile, extremely choppy. We'll have to wait for next week but we're going to run out of weeks to wait. I was hoping to build on today's momentum but it looks like it won't happen."
Max Gokhman, head of asset allocation for Pacific Life Fund Advisors: "Tech leading gains today may be more of a byproduct of them leading losses yesterday, broad sentiment has not shifted from the shakiness we've seen all month...One of the biggest concerns for me with tech, and GOOG showed some of this in today's call, is that margin pressure is going to be more of a factor."