Stock Traders Are Dumping Virus Hedges After 'Peak Fear' Passes
(Bloomberg) -- Worrywarts on Wall Street fretting traders are being complacent may want to look away from options markets right now.
Investors are sending demand for protection back to levels seen before the coronavirus became an epidemic, heeding the advice of Citigroup Inc. to ditch hedges. With panic cooling about a disease which continues to claim new victims after killing 636 people and infecting 31,000 in China, derivatives markets are all but ready to consign it to history.
"We may be past peak fear" in coronavirus, Citigroup strategists led by Jeremy Hale wrote in a note. "With this in mind, we take profits on some of our risk-off hedges."
The bank stopped short of recommending risk-on trades however, pending more evidence that the illness will succumb to aggressive efforts to contain it.
While peers at Goldman Sachs Group Inc. suggested the shock could slash Chinese economic growth to 4% on an annualized basis, Citigroup finds greenshoots cultivated by easier policy. Though they also acknowledge coming data will be weak given the shutdown of two-thirds of the economy.
Across options markets, traders appear to be dancing to a similar risk-on tune after U.S. stocks hit a record Thursday.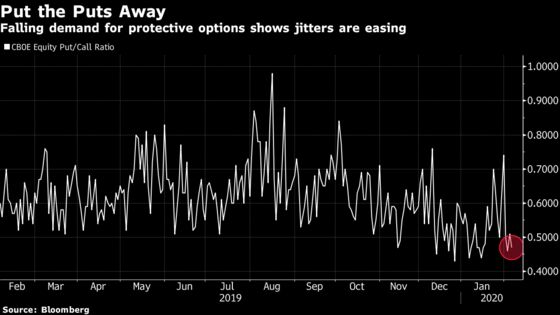 Demand for protective puts has fallen back to near levels before the coronavirus started dominating headlines, as measured by the Cboe Global Markets Inc. put-to-call ratio for U.S. equities. The 10-day moving average had only recently been on its longest rising streak since May.
The cost of hedging against a 10% loss in the $318 billion SPDR S&P 500 exchange-traded fund has also slipped, after rising to the highest since February 2018.
Susquehanna Financial Group, LLLP notes that at the same time demand for downside protection has been falling, interest in upside bets has been rising. "The market has shifted some of that perceived risk away from the downside tail and back toward the upside tail," strategist Christopher Jacobson wrote in a note.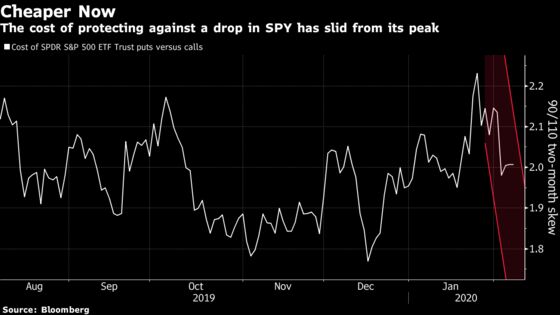 Michael Purves's preferred fear gauge -- the correlation between the Cboe Volatility Index and Korean won risk reversals -- is also flashing tranquility.
After spiking last week, both measures are "fading, reflecting lower tensions related to both trade and coronavirus," the CEO of Tallbacken Capital Advisors wrote in a note on Thursday. The two measures have been moving together for at least the past year -- initially on trade headlines -- and now on the coronavirus.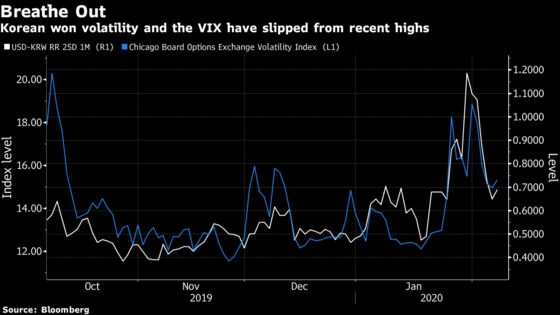 "Risk conditions appear to be pretty supportive if coronavirus does not dramatically accelerate," according to Purves. "On political dynamics, we think it is a reasonable assumption that Trump will continue to have a softer tone on China trade into the election given the overlap of manufacturing jobs in key swing states."