Stock Strategists See More Gains for Europe, With Bears Scarce
(Bloomberg) -- Despite this year's turmoil, equity strategists expect European stocks to keep rising in 2022, helped in part by a revival of sectors that are the most sensitive to the economic cycle.
The Stoxx Europe 600 Index will rise about 5.2% to 511 index points by the end of 2022 from Wednesday's close, according to the average of 19 forecasts in Bloomberg's survey. That's above the 4% average annual gain over the past 20 years and would take the benchmark to a fresh record.
"European equities are likely to have a good year, albeit with lower returns than in 2021," Goldman Sachs chief equity strategist Peter Oppenheimer said in written comments. His target for the Stoxx 600 at 530 by year-end implies about 9% upside. And over at JPMorgan Chase & Co., Mislav Matejka forecasts 7% gains.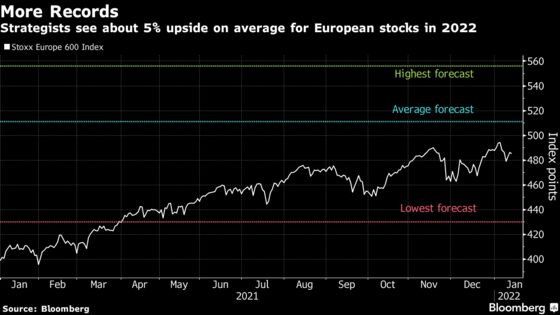 After a 22% rally and multiple records in 2021, European stocks have had a volatile start to the year amid worries that soaring inflation and tightening monetary policy might derail the economic recovery. Growth stocks with lofty valuations, such as technology, have been particularly hard hit in anticipation of rate hikes, with investors turning to cheaper or so-called value equities instead.
Still, a rising rates environment may become a tailwind for Europe. "Rises in global interest rates and inflation expectations should also support the European market and some of the value sectors which remain attractively valued," Oppenheimer said. The region remains cheap relative to history, to bonds and to the U.S. market, even when accounting for sector weightings, he added. 
The Stoxx 600 trades at about 25% discount to the S&P 500 Index, based on a forward price-to-earnings ratio. That's near the bottom of a 15-year range.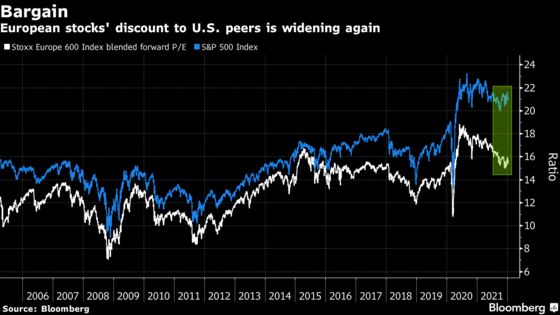 The bullishness among strategists is even more apparent when looking at the median number in the survey: 520 index points, suggesting 7% upside. Targets range from 430 to 556, with Bank of America Corp. and TFS Derivatives sharing the lowest forecast while Oddo BHF is the most bullish.
European stock funds had their biggest inflow since June in the past week with $1.9 billion, according to Bank of America and EPFR Global data. 
There aren't many negative voices out there, with only three strategists in the survey seeing downside ahead. Among them is Bank of America's Milla Savova, whose target implies 12% downside in 2022.
"We remain negative on European equities," Savova said in written comments. She sees headwinds including rate hikes hitting valuations, a fading economic recovery, rising input prices hurting margins, and the end of the Stoxx 600 earnings upgrade cycle.
European stocks remain a firm favorite for investors for now, however, with polls published this month by Goldman Sachs and Morgan Stanley both showing their clients tip the region to outperform this year.
Other survey highlights include:
For the Euro Stoxx 50, strategists see 5% upside on average
For Germany's DAX, strategists see 5.2% upside on average
For the U.K.'s FTSE 100, strategists see 0.9% upside on average
For tables on the Euro Stoxx 50 and Stoxx 600 polls click here; for a table on the DAX poll click here, for a table on the FTSE 100 poll click here.