Fed Doves Add Fuel to a Historic 10-Day Stock Run
(Bloomberg) -- Evidence central bank policy makers were more concerned about frantic markets than they let on in December was fresh ammunition for stock bulls bidding the S&P 500 to its biggest 10-day rally in a decade.
Minutes of the Federal Reserve's December meeting showed members hesitating over the pace of future interest-rate increases, citing "volatility in financial markets and the increased concerns about global growth." That sounded whistles for equity investors, many of whom sought evidence that Chairman Jerome Powell's recent dovish turn would prove durable and more than a knee-jerk reaction to critics like President Donald Trump.
"I'm happy to see that there was caution in the minutes because it means that the market didn't mug the Fed," Alicia Levine, BNY Mellon Investment Management chief strategist, said on Bloomberg TV. "You just don't want it to be a messaging issue. You want it to be that this is what the FOMC really believes."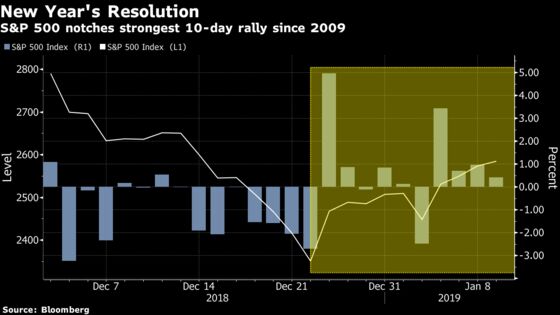 Since their Christmas Eve meltdown, U.S. stocks have been on a straight-up trajectory, rallying 10 percent over 10 days for their strongest rally since 2009. The gain has erased more than a third of the plunge that on Dec. 24 came within several points of ending the longest U.S. bull market ever recorded.
The seminal event of the advance came on Friday, when Powell said central-bank policy is flexible and officials are "listening carefully" to the financial markets and signaled a willingness to consider changes to the Fed's gradual run-off of its balance-sheet in any policy review.
That was a big shift from Dec. 19, the day the Fed raised interest rates for the fourth time in 2018 and evinced an uncertain inclination to slow the pace of hikes this year. Traders hoping for acknowledgment of their plight heard the chairman say that day that "a little bit of volatility" wouldn't mean much for the economy.
"He was a little bit tone deaf when he was kind of like, 'Who cares if the market falls 10 percent?'" said Chris Zaccarelli, chief investment officer at the Independent Advisor Alliance. "He realized by projecting such indifference in a public way when he communicated both in September and later on in the year that he was actually impacting things probably more than he wanted to."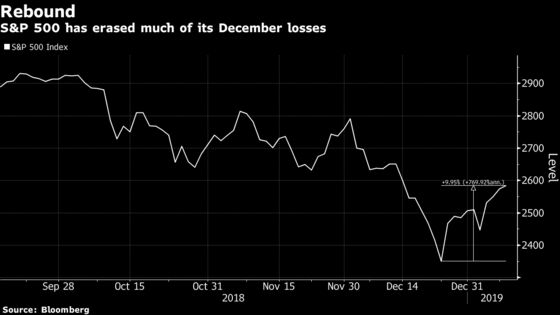 For now, bulls are getting reacquainted with circumstances they were accustomed to in the years before stocks began their correction in September. The U.S. economy just added more than 300,000 jobs, S&P 500 companies are expected to say earnings grew by more than 12 percent when they start reporting fourth-quarter results in a week, and the Fed is back to its gradual approach to monetary tightening.
"We just had a tremendous jobs number for December," said Michael O'Rourke, JonesTrading's chief market strategist. "Honestly, if the stock market didn't come into play, into the decision making process, and paint everyone's views on everything, you'd look at that jobs number and be like the Fed needs to tighten further here."