Equities Around the World Are Approaching Critical Inflection Points
(Bloomberg) -- Will the stock market's relief rally continue, or is a return to the lows in store?
Global equity charts are littered with a host of hitherto impenetrable resistance levels, including many 50-day moving averages that have so far contained the rebound. But, if the resistance is breached, it could help pave the way for future gains.
Exhibit A is the MSCI World Index, an index of developed-market stocks. The rally in global equities that started the year has stalled out in the past few trading sessions as the gauge ran smack-dab into its 50-day moving average.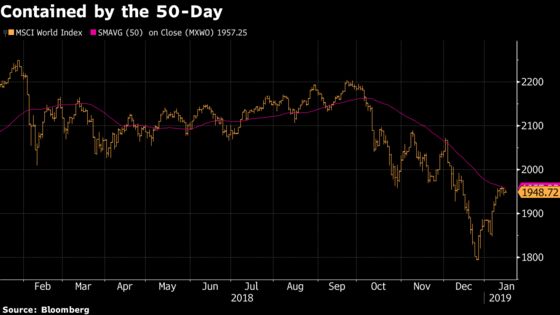 Stateside, the S&P 500 Index is staring at support that's turned into resistance. The 2,600 level, which helped define lows in May and October, is now acting as a barrier to the index's bounce-back from its 9.2 percent drubbing in December.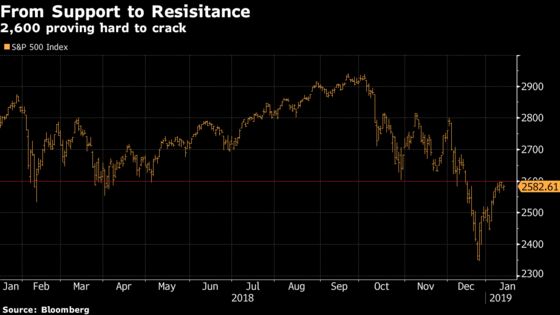 On the first day of December, the Nasdaq Composite Index tumbled below its 50-day moving average. It's since recovered to within 100 points of that level as of Monday's close.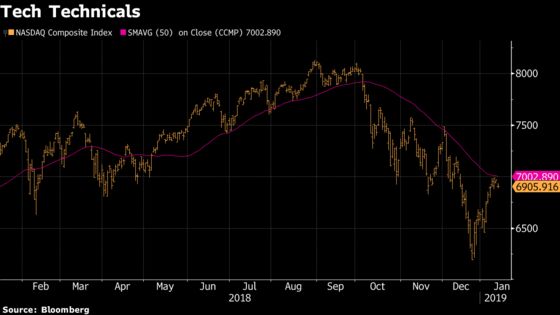 A swath of European gauges are butting up against their 50-day moving averages. The Euro Stoxx 600 is a scant few points away from breaking above this threshold for the first time since Federal Reserve Chair Jerome Powell said rates might be a "long way" from neutral, remarks which were later walked back. Germany's DAX Index is in a similar situation. After a sojourn above its 50-day moving average, the U.K.'s FTSE 100 Index is back below this level as Parliament votes on the Brexit deal.
"In Europe, the signals are pretty clear," write analysts at Bespoke Investment Group. "The combination of downtrends and declining 50-day moving averages have served as pretty significant resistance over the last few months."
The bright spot: Italy's FTSE MIB has been able to sustain last week's move above this short-term technical level for now.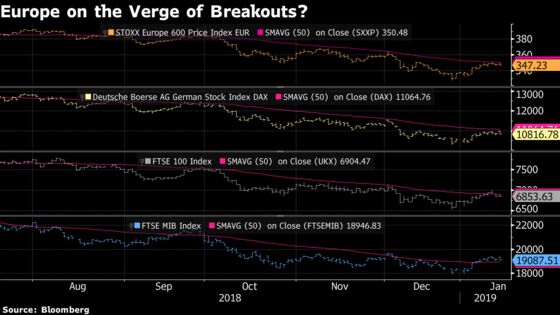 The Shanghai Composite Index is just below its 50-day moving average, a level it hasn't been able to keep its head above for long since January 2018. The Hang Seng Index's strong start to 2019 has the collection of Hong Kong-based firms trading above both the 50- and 100-day moving averages for the first time since early December.