Stock Price Boost from Bank of Japan's Record ETF Buying Fizzles
(Bloomberg) -- The Bank of Japan's surprise purchase of a record volume of exchange-traded funds turbocharged the nation's shares on Monday, but the effect vanished on Tuesday with investors talking down odds of a lasting impact.
The Topix lost 1.4% in Tokyo following a 1% gain Monday, its biggest advance in almost a month. The benchmark measure added 2% at one point on Monday after the BOJ stepped into the market to buy 101.4 billion yen ($940 million) of ETFs, the most since it began to step into the stock fund market in 2010.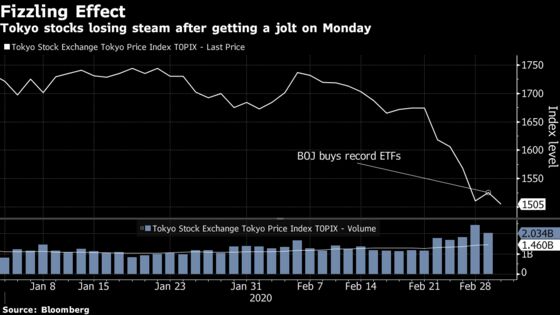 "The current problem facing the stock market isn't a matter that the central bank could resolve by staying the forefront -- this is what market reaction is telling you," said Makoto Furukawa, chief portfolio strategist for Mitsubishi UFJ Morgan Stanley Securities Co. in Tokyo. "The BOJ could maybe buy 100 billion yen of ETFs for a month, but if we don't see an end to the virus issue, if you think about it, what monetary policies can do is basically side support."
Accompanying the ETF buying, the Bank of Japan conducted unscheduled debt buying operations for two days straight as the BOJ Governor Haruhiko Kuroda vowed to ensure stability and sufficient liquidity in markets.
Four more patients died in Washington state, and a top U.S. disease expert said the coronavirus is likely becoming a pandemic. The OECD warned that global economic growth will sink to levels not seen in more than a decade, as cases reached 89,000 worldwide and death toll to more than 3,000. The outbreak pushed both the Topix and the Nikkei 225 Stock Average into corrections last week.
Here are what others are saying about BOJ's ETF buying:
Tokai Tokyo Research (Hiroki Ihara)
BOJ and central banks have been, and are, looking for the right time to take action because impact could be limited in a 'falling knife' situation
BOJ's buying of 100 billion yen, even when the market was rising, shows it can take preemptive measures
"I don't know how effective these monetary policies will be against virus infection risks."
Saison Asset Management (Tetsuo Seshimo)
It's a message from the BOJ after the market was in panic mood last week, so it had a calming effect, but nothing more than that
But market is in a situation where things will be tougher for banks and the financial sector, rates will struggle to head upwards
Rakuten Securities (Masayuki Kubota)
It's nothing out of the ordinary to see BOJ buying big volumes of ETFs at a time when the market is falling a lot, as these purchases will eventually form part of an annual target of 6 trillion yen
There are concerns the new coronavirus will negatively impact Japanese corporate earnings for the March quarter
UBS Wealth Management (Toru Ibayashi)
BOJ did not meet its target purchase of 6 trillion yen last year, which means they have power to buy more if they want to
BOJ has power to buy about 1 trillion yen more of of ETFs this year, in addition to their annual target of 6 trillion yen, which is "10 times of yesterday's buying"
Global government and central bank action, including BOJ's ETF purchases, will become "more important" than virus infection figures as spread of disease peaks