Stock Pickers Failed to Shine as the Market Tumbled Last Month
(Bloomberg) -- Stock pickers have been promising for years that once the equity market hit a rough patch, they would have a chance to prove their worth. Maybe not.
Stocks had their worst month in seven years in October and less than half, or 42 percent, of actively managed mutual funds that buy large-cap U.S. equities beat the S&P 500 Index, according to data compiled by Bloomberg.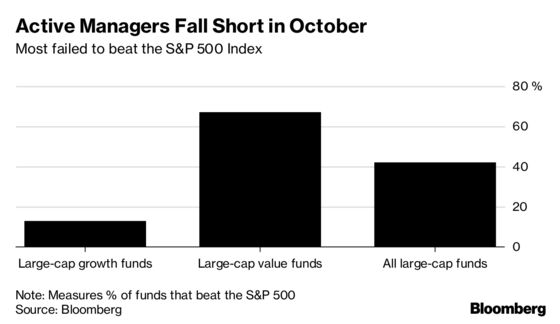 Growth managers -- who tend to own some of the most popular technology companies -- fared the worst, with only 13 percent beating the benchmark for the month. Shares of tech stocks took a drubbing during the month.
Value managers did better, with 67 percent outperforming. They typically invest in financial and health-care stocks.
The numbers were based on results from 682 funds tracked by Bloomberg.
Early results suggest it wasn't a great month for equity hedge funds either. According to an Oct. 30 report from Morgan Stanley, American equity hedge funds lost 7.2 percent for the month. That compares to a decline of 6.8 percent for the S&P 500, including dividends.