Stock Market With Biggest Outflows in 2020 Is Near a Record High
European stocks may have reached a fresh record high this week, but they remain the region that investors avoid most passionately.
Even as the Stoxx Europe 600 Index rebounded from coronavirus fears and approached new levels, market participants pulled the most money from European equity funds since August in the week through Wednesday. This brought the year-to-date outflow to $6.3 billion, the largest among major regions and the only one to have net redemptions in 2020.
The latest data underscores the difficulty of attracting investors to a part of the world marred by political and economic hurdles, despite the strong performance of its stock market.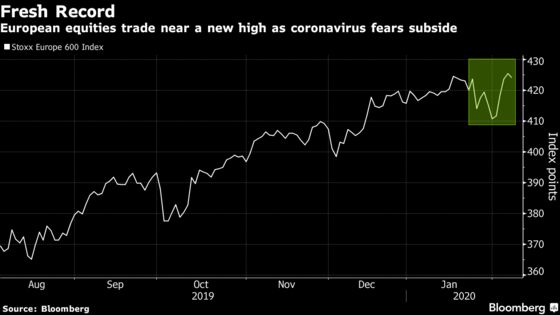 After European equity funds lost about $100 billion to outflows last year just as the Stoxx 600 surged 23%, some analysts were optimistic that the Brexit withdrawal agreement would fuel money into the region. They might have to wait.
The latest weekly outflow of $3.8 billion stands in sharp contrast to almost $13 billion of inflows into U.S. funds, according to Bank of America Corp. and EPFR Global. While BofA's note doesn't provide a breakdown between flows into mutual funds and exchange-traded funds, there are signs that investors are favoring ETFs over actively managed products when investing in European stocks.
So far in February, European-listed ETFs focused on the region's equities have seen inflows of about $719 million, according to data compiled by Bloomberg Intelligence. And last year, investors put about $18 billion.
The Stoxx Europe 600 Index is set for its best week since November 2018 as corporate earnings and optimism over global growth outweigh concerns about the impact of the coronavirus.