Stock-Market Rally's Leaders Signal Bets on Return to Normal
(Bloomberg) -- A look under the hood of the best rally in five weeks for U.S. stocks reveals investors speculating the American economy will soon return to its old self.
The S&P 500 rallied more than 3% Monday after promising early results in an experimental coronavirus vaccine study. The surge wasn't led by the megacap tech names that have buoyed indexes in the past seven weeks. Instead, it was cruise-ship operators, concert promoters and airlines -- companies whose profitability requires a return to something very close to the pre-pandemic normal.
"The stocks that have struggled a little bit have been more the stay-at-home stocks -- Google, Netflix, Kroger, Clorox, Amazon," said JJ Kinahan, the chief market strategist at TD Ameritrade. "Certainly people are willing to take a little more risk. It's the reality of the fact that some states did start to reopen. It's like, 'Oh, OK, this is what demand may actually look like."'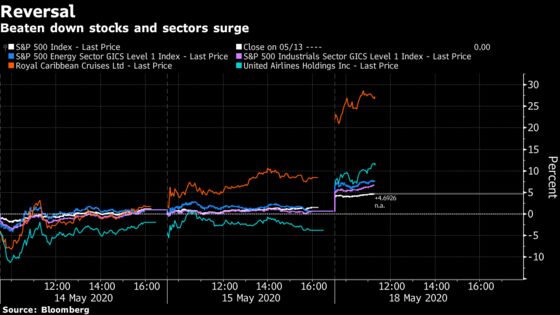 Royal Caribbean Cruises, Live Nation Entertainment and Host Hotels & Resorts surged at least 16% to lead the S&P 500. United Airlines, Expedia and Norwegian Cruise Line were also in the top 10.
Campbell Soup, JM Smucker, Clorox and Kroger -- makers and purveyors of the soups, foods and cleaning products that sold briskly as the pandemic gripped the nation -- were among the worst performers.
While overnight trading saw futures climb more than 1% on signs that a gradual reopening in large parts of the country was going well, it was the results from Moderna's experimental vaccine that spurred the risk-on sentiment in slices of the market that were seen as being a long way from recovering.
"It will be difficult for the stay-at-home trades to do well on a day when people are optimistic of coming out of this," said Mark Stoeckle, senior portfolio manager at Adams Funds.
To Jeffrey Kleintop, chief global investment strategist for Charles Schwab & Co., it's a positive development laggards are leading gains. "That's the kind of leadership this market needs, areas that have not done the heavy lifting here," he said in an interview.
But even if a vaccine proves to be safe and effective, producing enough of it to inoculate most Americans will be a challenge. Morgan Stanley said that based on current projections from the leading candidates, those manufacturers are unlikely to reach a few hundred million doses in aggregate until the first half of next year.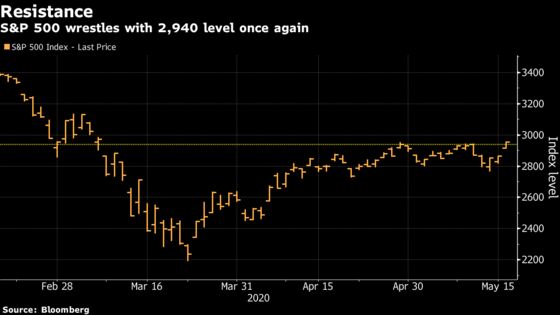 TD Ameritrade's Kinahan isn't convinced the resiliency will last. To break through in a credible manner, it's likely all states will have to reopen or more signs of a successful vaccine come forward. The S&P 500 climbed 3.3% to 2,956 as of 11:24 a.m. in New York, headed for the highest close since March 6.
"At the end of the day, we still haven't gotten past 2,940. Let's face it, that's been the holy grail in terms of going higher," he said by phone. "We just can't seem to get through it. We went right up to it this morning and we failed again. Unless we close above there, and I think convincingly above there, we're going to have trouble going higher."