Stock Investors in Asia Are Buckling In for Volatile Second Half
(Bloomberg) -- It has been an unsettling year for Asia stock investors. And while easier financial conditions and undemanding valuations might help temper investor sentiment for the remainder of 2019, the trade war, muted earnings growth and a resilient dollar may continue to damp enthusiasm.
"You can't dismiss the large number of binary risks -- the key one is the potential for trade escalation," Nathan Thooft, head of global asset allocation at Manulife Investment Management, told Bloomberg TV. "It's not something we can fully control for and therefore while we want to be risk-on in our posture generally speaking, we don't want to be reaching for the stars when it comes to getting too aggressive in portfolio positioning."
In June, stocks have attempted to recoup last month's decline. The world's central banks spent last week embracing easier monetary policy, with interest rate cuts from the Federal Reserve expected as soon as next month. The MSCI Asia Pacific Index is set to post the biggest gain since January. Chinese stocks are poised to post their first gain in three months -- keeping them in the No. 1 spot for the region this year.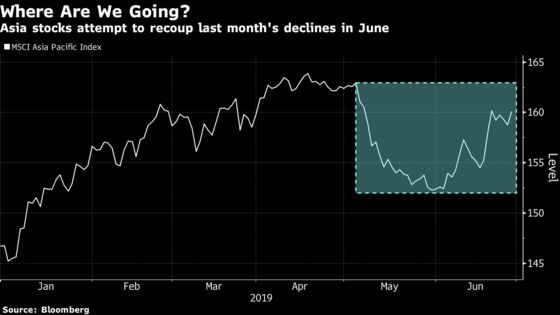 Here's a breakdown of what's appealing and what is not, around Asia:
Investor allocation to stocks across Asian emerging markets is low, according to Citigroup's Markus Rosgen. That's especially the case in China, Korea, Taiwan and Malaysia, he said, adding that economic data would need to improve and the U.S. dollar to retreat for money managers to increase holdings. His preference is for equities in Hong Kong, Singapore and Taiwan.
Pascal Blanque expects volatility in markets to rise. The chief investment officer at Amundi SA, which oversees about 1.48 trillion euros ($1.68 trillion), says it's prudent to scale back risk -- though cautions not to take this too far and miss further upside for stocks.
"We are conscious of the unforeseeable side of protectionism," he said. "We don't see it as being priced into risk assets. We expect the tug of war between softer and harsher tones to continue, resulting in further market volatility."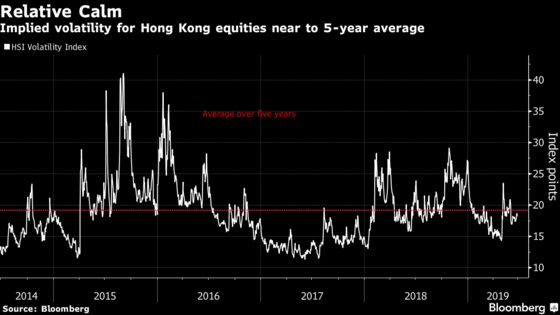 The MSCI China Index will rise 6-8% through the remainder of this year and the country's shares trading in Hong Kong -- known as H-shares -- could have even greater upside, according to Sean Taylor, chief investment officer for Asia Pacific at DWS. His worry is that any escalation in trade frictions could quickly dampen the earnings prospects. Goldman Sachs Group Inc. strategists said it's a good time to buy call options on the Hang Seng China Enterprises Index.
Chinese equities, already the region's best performers this year, are among the top picks for Goldman and DWS, with valuations appealing near to long-run averages. Many strategists and investors are united on trade, saying if U.S.-China relations deteriorate it would be the single biggest impediment to equity returns.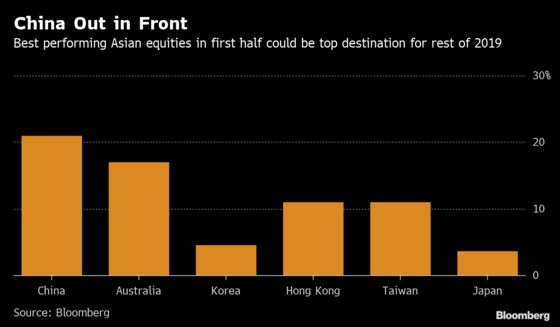 The worst of the cuts to earnings forecasts may be in the past, increasing the chance equities in the two countries outperform, according to strategists at Goldman. While acknowledging these markets typically underperform when global growth is sluggish, cheaper stocks and the dividend appeal in Taiwan will work in their favor, they wrote.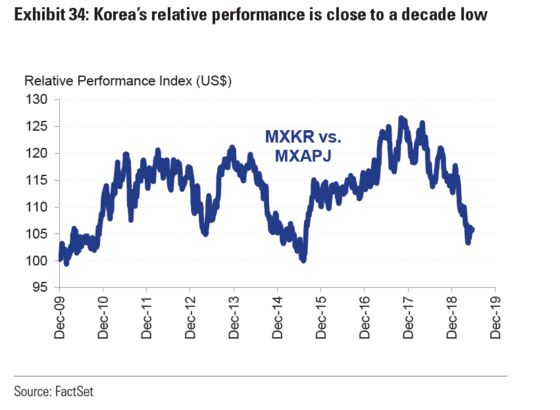 BlackRock's Andrew Swan is avoiding technology hardware stocks in favor of sectors with better growth prospects, such as healthcare and education.
"I struggle to see how corporate profits grow in Asia in the current environment," said Swan, the firm's head of global emerging market equities. "The outlook for the region is a very subdued environment in the new regime that we're now in."
Still, valuations may provide some cushion if central banks move to boost policy support, lowering the discount rate and pushing up the price of equities around the world.
"Valuations remain attractive," said Virginie Maisonneuve, chief investment officer of Eastspring Investments, nothing that price-earnings multiples are below the recent average.