Stock Hedge Funds Slump Harder Than Market in October Reversal
(Bloomberg) -- Stock hedge fund managers have been complaining for years about the difficulty of keeping up with the S&P 500 Index in a roaring bull market. This month, they've outpaced the U.S. benchmark -- but in the wrong direction, racking up even bigger losses.
Equity long-short funds fell 8.7 percent through Oct. 23, according to a report from Goldman Sachs Group Inc., about 3 percentage points more than the S&P. For the year, the funds were down 6.2 percent, the investment bank said, based on data from its hedge fund clients, while the index was still in the black.
Market turmoil has swept through Europe and Asia this year, with key indexes in China and Greece tumbling more than 30 percent from their peaks, and eight more countries mired in bear-market declines of at least 20 percent. Now the U.S. has succumbed to growing concerns over an earnings slowdown and higher interest rates, dropping about 8 percent in October and heading for its biggest monthly loss since May 2010.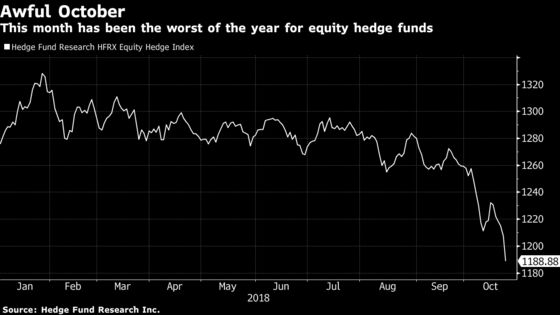 Equity hedge funds, which hold more than $950 billion and are designed to benefit from their ability to bet on or against stocks, have struggled for much of the last decade with lackluster returns and client withdrawals as investors flock to lower-fee products. In 2018, established firms including Jon Jacobson's $12 billion Highfields Capital Management, Alan Fournier's $1.5 billion Pennant Capital Management and Jason Karp's Tourbillon Capital Partners said they were returning client cash as it became harder to make money.
The sell-off punished a Horseman Capital Management hedge fund -- the Horseman European Select Fund -- which plunged almost 21 percent this month through Oct. 24 as its long bets on European equities were hammered.
Read more: Horseman Europe Hedge Fund Tumbles 21% in Stock Market Rout
A few managers who have kept a healthy short exposure look to be vindicated this month after years of fighting a soaring market. Lee Ainslie told clients recently that three stocks that his $10 billion firm, Maverick Capital, was betting against had each surged more than 60 percent since April, erasing much of his main fund's gains for the year. That fund is up slightly this month, according to an investor.
The rout in stock and bond markets has spread to other strategies, including computer-driven models that follow big market trends.
"It's a bloodbath out there across almost every strategy with very few exceptions," said Vaqar Zuberi, head of hedge funds at Mirabaud Asset Management, which oversees 8.8 billion Swiss francs ($8.8 billion). "CTAs have been caught by a double-whammy with rising rates and equities plummeting."