Stock Fear Gauge Falls to Nine-Week Low After Topping 2008 Highs
(Bloomberg) -- Just minutes after the worst U.S. jobs report since the Great Depression, the Cboe Volatility Index fell back to where it was in the early days of the stock sell-off.
The VIX, commonly called the equity market's fear gauge, fell to 29.5 as of 10:01 a.m. in New York, its first time below 30 since March 3. At that point two months ago, the S&P 500 had fallen 11% from its record high and still had an additional 25% to go before bottoming on March 23. The VIX would rise as high as 85.5, topping the 2008 record, as the coronavirus pandemic took hold.
Stock volatility has subsided, even in the lead up to Friday's jobs report, as investors turn their focus toward what they hope will be a sharp economic recovery once the virus-related shutdowns ease. The S&P 500 has swung an average of just 0.8% a day over the past four sessions. That compares with an average of 5% a day in March, a record.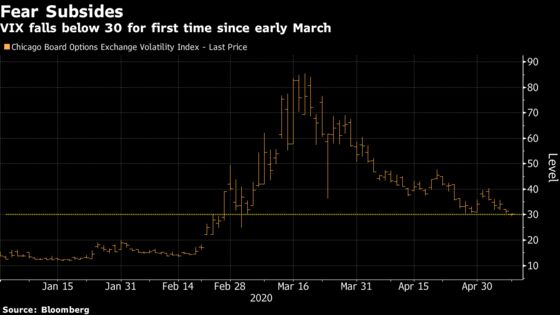 "People aren't scared like they were in the second week of March," said David Harden, the chief investment officer at Summit Global Investments. "The virus is more of a known quantity to everyone, we know how it affects us, we know how to protect ourselves. We've begun to normalize that into our lives."
The S&P 500 is poised to snap a two-week streak of losses as states begin the early stages of reopening their economies and stimulative monetary policy measures loosen credit markets. With the gauge up almost 30% from the March lows, stock bears have been forced to reevaluate pessimistic views.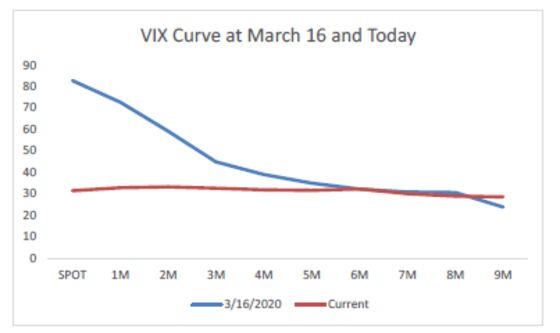 The VIX below 30 is still elevated compared with its long-term average of 19. According to Michael Purves, chief executive officer of Tallbacken Capital Advisors, a look at VIX contracts that expire in coming months -- as opposed to the front-month contract most traders use as a benchmark -- suggests volatility will likely remain for some time.
"While a continued rally here will most likely further put downward pressure on VIX spot and help de-invert the front month of the curve, the later-dated contracts are a reminder to us of the fragility of this risk-on condition," Purves wrote to clients.