Stock Carnage Has Ben Graham Fans Snapping Up Bargain Bets
(Bloomberg) -- Punishing markets are leaving some screaming value on the table, according to brave investors willing to go against the herd.
Guggenheim Partners' Scott Minerd says it's a good time to go shopping in the stock market. Eric Lonergan at M&G Investments says beaten down Italian bank shares could surge more than 50 percent over the next year. And Brandes Investment Partners' Luiz Sauerbronn says the U.K. equity market is being punished too hard due to perceived damage that Brexit will cause.
The worst month for global equities in six years has been painful and indiscriminate as concern about the sustainability of earnings growth amid tightening financial conditions add to a laundry list of worries from global trade to Italy's debt crisis. The rout took a breather Thursday as U.S. stock futures signaled a higher open.
After years of suffering as their growth counterparts led the bull market to fresh highs, value investors -- who follow Warren Buffett mentor Benjamin Graham's strategy of looking for cheap stocks through fundamental analysis -- have lost less this month as tech giants tumbled.
"When I look at that screen and see all that red, all I see are stocks that are on sale," Minerd, Guggenheim Partners' chairman of investments and global chief investment officer, told Bloomberg TV. "It's a good time to maybe do some shopping."
Over in San Diego, Sauerbronn has been staying patient, happy to own British grocers, oil companies and pharmaceutical stocks. While value shares have beaten the broader market during this latest bout of turmoil, they still lag significantly behind over a longer time-frame.
"It's hard to go against the crowd, especially when the value style is not working for so long," Sauerbronn said by phone from San Diego. London-listed shares "now trade at a significant discount and we're able to find more and more opportunities in the U.K. The focus is completely on Brexit and that's a great opportunity in you're long-term orientated and patient."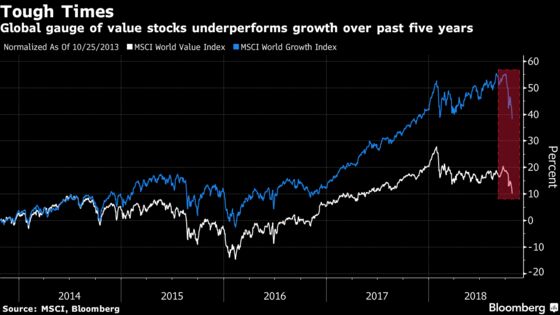 For M&G fund manager Lonergan in London, the potential for the highest returns is in Italy, where beaten-down banks could surge between 40 percent and 70 percent in the next 12 months, if an agreement is struck on budget reduction plans.
"If you get any fiscal stabilization or they sort of manage to get an agreement with the Europeans, you could see a very pronounced and aggressive rally in those assets," he said in a recent Bloomberg TV interview. "You're now getting extremely good odds when you look at the valuations."