Stock Bulls Pin Hopes on a G20 Trade Truce Paving Way for Rally
(Bloomberg) -- Investors stung by the equity rout are looking toward this month's Group of 20 summit for a breakthrough on trade.
With everything from higher rates to slower earnings growth and political turmoil dogging U.S. stocks, any cooling of tensions between the world's two largest economies would likely boost equities. Analysts from Morgan Stanley to Haverford Trust see the meeting in Buenos Aires as a logical place for President Donald Trump and his Chinese counterpart to make some progress.
The stakes for equity investors are high, with stocks reacting swiftly to headlines on trade in the past week. Just Friday, the S&P 500 Index erased losses after Trump signaled a deal is possible. Optimists say that even without a final pact at the Nov. 30-Dec. 1 summit, there's plenty of room for smaller agreements or even just some friendly words that would ratchet down the tension.
"If they come out of that and say we're in basic agreement and now our team is just working out some small details, this market would be 2000 points higher," said Hank Smith, the co-chief investment officer at Haverford Trust, referring to the Dow Jones Industrial Average. Such a rally from current levels would imply a gain of about 8 percent.
The Dow average recently traded around 25,500, heading for its fifth weekly decline in the past two months. The gauge is up about 2.5 percent in 2018, which would be its second-worst annual return since the bull market started in 2009.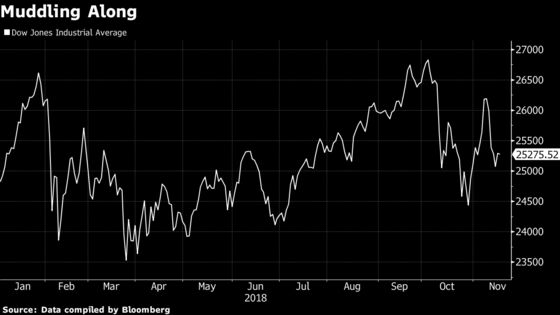 Markets have been whipsawed this year on U.S.-China trade developments, so it stands to reason that a meeting between the leaders of the two countries is going to be closely monitored. U.S. Commerce Secretary Wilbur Ross said Thursday that countries were likely to get only a framework for a deal at the G20 meeting. But those could still have a big impact on markets.
"A constructive statement or pause in escalation is now a realistic potential outcome from this meeting," Morgan Stanley strategists led by Michael Zezas wrote in a report Thursday. While "the trade talks will remain difficult, and a final resolution of differences is unlikely in the near term," there's a path open for the leaders to make progress at the G20.
JPMorgan Chaw & Co. says markets will likely rally into the end of the year and that trade tensions will ease. Trump "will need to do what is in his power to keep the economy rolling -- drop the damaging trade war and turn it into a winning deal," strategists led by Marko Kolanovic wrote in a note Nov. 7.
One potential motivator for Trump is the recent swoon in markets -- the S&P 500 Index is down 6.6 percent since peaking in late September, and the U.S. president has often pointed to equity gains as being driven by his policies. If stocks continue to struggle, Gavekal Research's Arthur Kroeber says it could motivate Trump to reach a deal.
Morgan Stanley agrees. And analysts there see room for agreement between the countries on major issues including intellectual property rights and U.S. access to Chinese markets.
"A constructive U.S.-China statement or a tariff pause are rising possibilities," Morgan Stanley's strategists wrote.