Stock Bulls Need Proof They Were Right to Go All In on Recovery
(Bloomberg) -- After the best quarter for U.S. stocks since 1998 ended with equities stuck in a tight trading range, bulls are now pointing at an improving earnings outlook as evidence the next move will be higher.
The S&P 500 rallied 1.5% on Tuesday to end the quarter up 20%. Virtually all of that gain came in April and May, when a flood of stimulus jolted stocks out of their tailspin. Since then, the equity benchmark's been mired in a 200-point band.
Aside from Thursday's jobs report, the next major catalyst will come in less than two weeks when companies report how they fared during three months that covered the shutdown and tepid reopening, and how they see profits for the rest of the year.
There's reason for optimism even though earnings are estimated to have contracted by more than 40% in the worst quarter since the financial crisis. Over the last week, analysts have raised their forecasts for the second, third, and fourth quarters, a change in tone after sentiment hit the lowest in at least 18 years.
"We call it the 'What have you done for me lately phase?' that we're in right now, where you get consolidation, choppy trade, you get second guessing, skeptical moves in the market," said Chris Hyzy, chief investment officer of Merrill and Bank of America Private Bank. But "globally, earnings revisions have been troughing and actually ticking up a little bit in most economic zones, even here in the United States."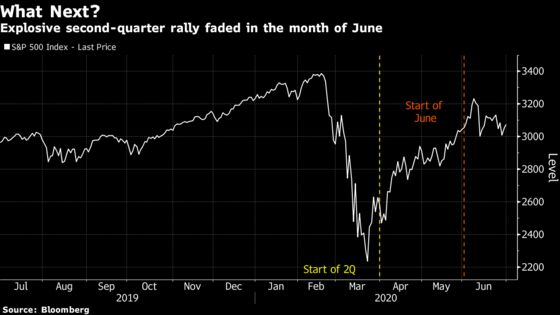 There are other crucial catalysts on the horizon, including the end of some fiscal stimulus measures enacted to mitigate economic damage from the coronavirus. And of course investors are also monitoring the progress of the disease itself as infections surge in parts of the country. Economists forecast this week's jobs report will show an unemployment rate of 12.5% in June.
Equity optimists point to evidence that sell-side profit forecasts for S&P 500 firms have likely bottomed, "allowing only upside for stocks," Bloomberg Intelligence strategists including Gina Martin Adams wrote Monday. In the last week, estimates for second-quarter earnings rose 19 basis points, while those for the third quarter improved 12 basis points and fourth-quarter forecasts rose 4 basis points.
Just as the stock sell-off in March and the subsequent rebound happened at warp speed, earnings sentiment has also completed a 180 in record time. According to Lori Calvasina, head of U.S. equity strategy at RBC Capital Markets, an indicator that measures the share of analyst earnings revisions to the upside recently rose to 52%, the first time the measure surpassed 50% this year. The barometer fell to as low as 8% in April, the weakest level since at least 2002.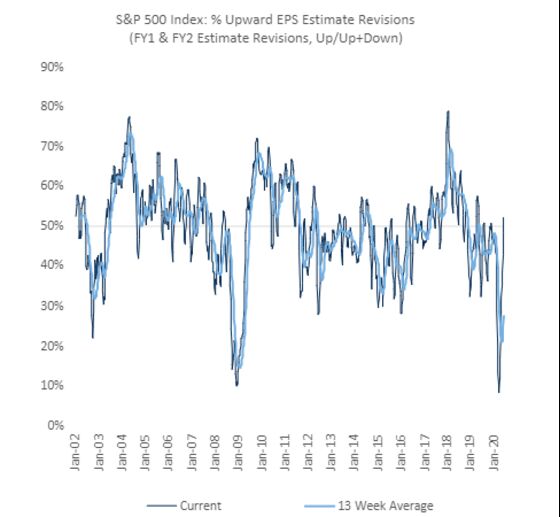 Two weeks before banks kick off the reporting season, the turnaround is already seeping into stock prices. Revisions -- for both target prices and earnings-per-share -- along with high profitability were the best performing factors in the last week among 17 tracked by Bloomberg.
For example, a basket that bets on S&P 500 stocks that have seen their profit forecasts revised higher while shorting those that saw estimates cut rose 1.6% in the seven days through Monday. The broader S&P 500 fell 2% over that same period.
Still, even with the latest increase in optimism, earnings for S&P 500 companies are forecast to have declined 44% in the three months ended in June, the worst quarter since 2008, data compiled by Bloomberg Intelligence show. Profits are again expected to contract by double digits in the third and fourth quarters from the same periods last year, before jumping 26% in 2021.
Dan Hanson, the chief investment officer at Ivy Investments, will be extra focused on executive commentary through the reporting season.
"Results for the period are going to be widely non-representative of long-term earnings power," Hanson said in an interview. "While the number may be of limited use, the qualitative insight to how businesses are doing for this time is invaluable."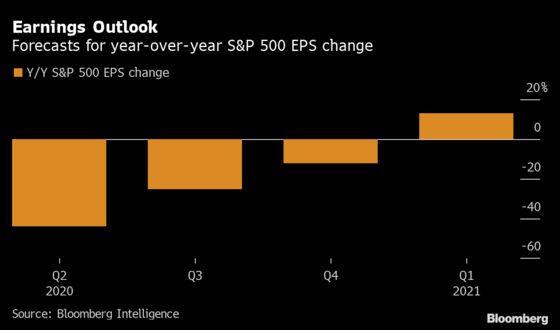 A Deloitte LLP survey of roughly 120 chief financial officers at large companies found that about a fifth say their firms are already operating at or above pre-crisis levels, while close to three-quarters said they're operating at or above 80% capacity. At the same time, more than half said more government relief is necessary.
As it stands, the unemployment benefit boost created by the CARES Act is due to expire at the end of July. That's significant considering many bullish bets are predicated on stimulus measures -- both fiscal and monetary -- and viral spread not getting out of hand.
Canaccord Genuity LLC's Tony Dwyer raised both his 12- to 18-month S&P 500 price target and 2021 profit estimate this week, saying the combination of monetary stimulus and liquidity improvement has allowed his team to turn more optimistic on earnings. Dwyer now predicts S&P 500 companies will earn $165 a share in 2021, an amount that would just about match 2019's peak.
Mike Wilson, Morgan Stanley's chief U.S. equity strategist, similarly sees a quick return. Typically, stock valuations -- now at the highest in two decades by some measures -- peak at the same time earnings trough, which seems to be the case now, he says. And profit forecasts are likely to gain upside momentum over the next six months, as is typical when emerging from a recession.
"Ultimately our thesis of a strong earnings rebound next year rests on the fiscal stimulus provided to support consumer and corporate balance sheets," Wilson wrote in a note to clients Monday. "In the current environment the extreme policy support means that demand may snap back faster than in prior instances."