How Billionaire Steve Cohen Learned to Love Cryptocurrencies
(Bloomberg) -- Hedge fund billionaire Steve Cohen was until recently a bit of a skeptic when it came to cryptocurrencies. 
Then his son -- a "cryptomaniac" -- helped change his mind.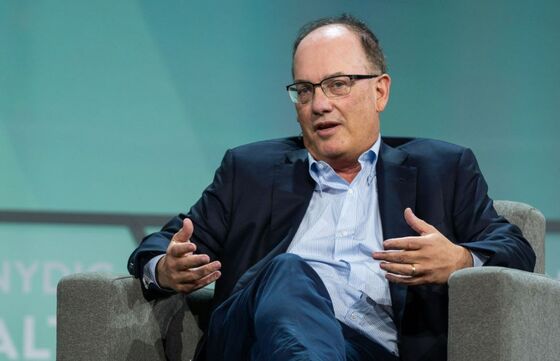 "He really convinced me this was something I needed to do," Cohen, the founder of Point72 Asset Management and owner of the New York Mets, said Tuesday at the SALT conference, according to a person with knowledge of his remarks. That was part of a journey that included meeting with as many people over the past six months as he could to educate himself about the possibilities. 
"Once I decided there were opportunities, and I thought this could be a space like the internet -- it could be incredibly transformational -- I wasn't going to miss this," Cohen said in a discussion in New York titled "Generating Alpha in Markets and Baseball" and moderated by Skybridge Capital founder Anthony Scaramucci. 
Cohen, 65, who has a net worth of $11.1 billion, according to the Bloomberg Billionaires Index, has since thrown himself into the world of crypto in both a personal capacity and at his firm.   
This week, he announced he was investing in Radkl, a quantitative trading firm for digital assets. That was after Recur, a technology company that develops experiences allowing fans to buy and sell non-fungible tokens, or NFTs, said Cohen's family office -- Cohen Private Ventures -- invested in its $50 million Series A funding round. Cohen, meanwhile, told Scaramucci that Point72 is building crypto-trading capabilities at the firm.
His interest in the virtual realm extends beyond crypto: Cohen expressed a fascination with the metaverse, or a vision of a virtual world where people interact through avatars.
"There's some far-out ideas out there, about how people are going to spend their time," he said. "Your mind can run wild," he added, about how people will interact in the metaverse, potentially buying virtual real estate and virtual outfits for their avatars. 
Cohen, a Mets fan since childhood who bought the team in December for about $2.5 billion, also addressed why he loves owning the franchise and the club's performance.   
"It's taken me into a different realm," Cohen said, noting there are 30 owners of teams who meet on a regular basis, opening up his world to a different crowd. It also has its downsides.
"Owning a hedge fund, you have some notoriety, but it's nothing like owning a sports team in New York." 
It has been a rocky year for the Mets, who squandered their lead in the National League East by losing 19 of 28 games in August. 
In January, Cohen fired General Manager Jared Porter over allegations of sexual harassment. Last month, Acting General Manager Zack Scott was arrested on a drunken driving charge after leaving a charity fundraiser at Cohen's house. He was placed on administrative leave after pleading not guilty.
The billionaire weighed in on the world of social media, where he has been more vocal since acquiring the Mets, saying it has helped people to see him as a human being, and not just a wealthy hedge fund owner. 
"Twitter is a tough place to be," Cohen said. "But it's a great way to interact with the fans and have your own voice."
In a SALT panel on Monday, Cohen and fellow hedge fund manager Dmitry Balyasny said they support a hybrid work model for their employees.
"I do think we have to be flexible," Cohen said in a video posted by the conference on YouTube. Allowing staff to work a few days a week from home makes sense "as long as they're doing what they're supposed to do and being part of the firm and communicating, I'm okay with that," he said.
The "big surprise" in the work-from-home shift is learning "that we can do this regardless of where we are," he said.
Balyasny, founder of Balyasny Asset Management, said his firm has embraced a hybrid model as well. While employees need to spend some time in the office, flexibility is "a bit of a recruiting advantage" in a competitive talent market, he said, pointing out that "our two fastest growing offices are Austin and Miami."
It's not just employees that like the flexibility -- it's the billionaires too. 
"I like working at home. I don't feel like I have to be in the office five days a week," Cohen said. "I can run my firm from wherever I am."