States Hardest Hit By Gasoline Lines to Feel Relief By Weekend
(Bloomberg) -- The states suffering from the most acute gasoline shortages should start to feel relief this weekend after the nation's largest fuel pipeline resumed operations.
Fuel will begin flowing immediately but will require an armada of tanker trucks to ferry product from endpoint gasoline terminals to retail stations emptied by panicked drivers during the Colonial pipeline's shutdown. Earlier this week, the Biden administration waived some trucker restrictions to help with the replenishment.
Panicked drivers lined up for gasoline at stations across the Southeast after a ransomware attack forced the Colonial Pipeline system to shut its operations late last week. Georgia, Virginia and the Carolinas were among the most affected by empty pumps. The rush to fill up sent the national average gasoline price above $3 a gallon for the first time in six years.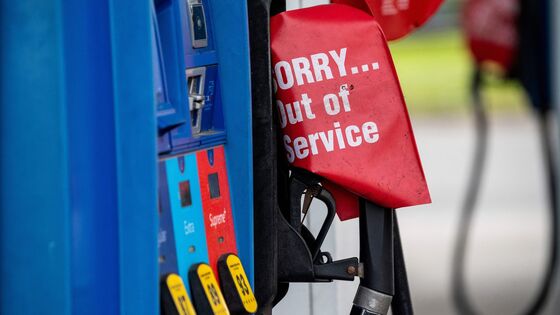 The most immediate effect of the pipeline's restart may be psychological, calming fears of dwindling supplies and persuading motorists to hold off from topping up tanks, said Angela Holland, president of the Georgia Association of Convenience Stores.
Atlanta's Fuel Crisis Sparks Hunt for Increasingly Rare Supply
"Folks that get up in the morning, and they've got three-fourths of a tank of gas, are not going to feel like they need to top off tomorrow," she said. Some of the association's members reported selling three to four times their usual daily amount during the pipeline system's shutdown.
North Carolina, the first state to declare a state of emergency in the wake of Colonial's shutdown, should register a significant change by this weekend, said Gary Harris, executive director of North Carolina Petroleum & Convenience Marketers.
Major branded stations will get fuel first since they are under contract with suppliers, said Harris. "People will have to be running trucks a lot to just catch up because so much is out at this time," he said.
Waivers for weight load and driving-hours restrictions for truck drivers will help speed gasoline deliveries to retail stations. "The weekend should give people a chance to get caught up with their distributors and dealers," said Michael O'Connor, president of the Virginia Petroleum & Convenience Marketers Association. Consumers will see a difference by Monday, he said.