Money Is Flooding Into Communications ETF After Index Gets Shuffled
(Bloomberg) -- Investors continue to pour cash into exchange-traded funds tracking the new communication services sector nearly a week after index providers rejiggered their industry benchmarks.
State Street Corp.'s Communication Services Select Sector SPDR Fund, or XLC, has taken in more than $683 million this week, pushing the fund's assets to just over $1.8 billion. Matt Bartolini, head of SPDR Americas Research, predicts the fund will hit $2 billion by the end of the week.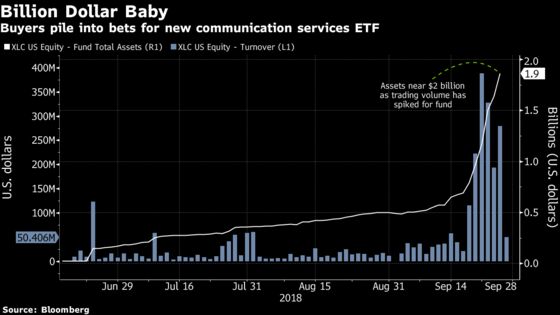 "It's really just the beginning," Bartolini said in a Bloomberg TV interview. "People are starting to move and starting to reallocate portfolios because if you don't, there's a significant amount of stock-specific risk."
XLC started trading in June, after S&P Global Ratings and MSCI Inc. said they were reorganizing industries in the Global Industry Classification Standard, or GICS, structure by combining phone companies with some internet and media stocks -- such as Facebook Inc. and Netflix Inc. -- into a new group called "communication services." Since its launch, XLC has not had a single day of outflows. Investors have added $214 million a day on average over the past week.
State Street's SPDR sector ETFs on average hold about $13 billion in assets. The three-month-old communication services product is already closing in on the two least-popular funds in the group, which track real estate and materials stocks.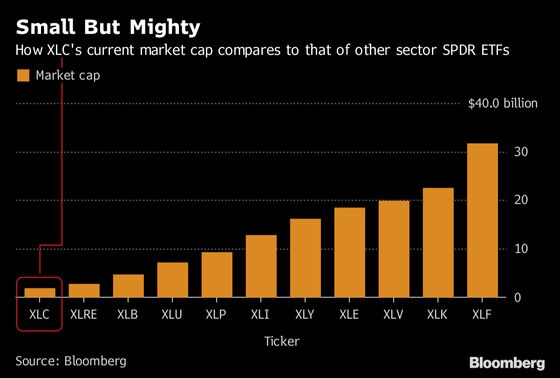 As a category, ETFs tracking the U.S. communications sector have taken in over $1 billion in the past week. That accounts for half of the group's asset growth this year, according to Bloomberg Intelligence data. Cash is also flooding into the Vanguard Communication Services ETF, or VOX, which now has $1.1 billion in assets, the most since February.