Someone Sold Big Stake in a State Street's U.S. Stock ETF
(Bloomberg) -- It looks like one investor bailed on an exchange-traded fund tracking the broader U.S. stock market.
State Street Corp.'s $3.9 billion SPDR Portfolio S&P 1500 Composite Stock Market ETF, ticker SPTM, had record outflows of $598 million, according to data compiled by Bloomberg. More than 14 million shares worth $595 million crossed the tape Thursday at 11:58 a.m. in New York.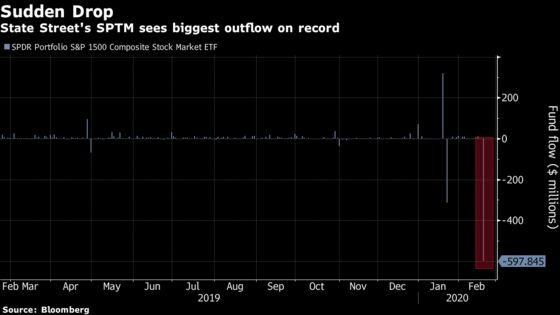 It's likely that the withdrawals came mostly from one single seller. Hanson McClain Inc., which changed its name to Allworth Financial last year, was the only investor with a stake of that size as of Dec. 31. A spokesperson for the company declined to comment on the flows.
Just a minute later on Thursday, another fund tracking a broader array of U.S. stocks, the Vanguard Total Stock Market ETF, ticker VTI, saw a massive trade. More than 3 million shares worth about $560 million changed hands, according to data compiled by Bloomberg.
It's possible that one investor switched from one fund to the other, according to Mohit Bajaj, director of ETFs for WallachBeth Capital. While the reason for the change is unclear, it could be linked to the fact that VTI holds over 3,500 securities, compared with a little more than 1,500 for SPTM.
Following are the SPTM's biggest holdings as of Feb. 20:
| Name | Ticker | Position | Value (USD) | Change in Position | % of Total Asset Value |
| --- | --- | --- | --- | --- | --- |
| Microsoft Corp. | MSFT US Equity | 1.13 million | 207.8 million | 0 | 4.6 |
| Apple Inc. | AAPL US Equity | 616,905 | 197.6 million | 0 | 4.3 |
| Amazon.com Inc. | AMZN US Equity | 61,534 | 132.5 million | 0 | 2.9 |
| Facebook Inc. | FB US Equity | 355,618 | 76.3 million | 0 | 1.7 |
| Alphabet Inc. | GOOGL US Equity | 44,267 | 67.2 million | 0 | 1.5 |
| Alphabet Inc. | GOOG US Equity | 44,080 | 66.9 million | 0 | 1.5 |
| Berkshire Hathaway Inc. | BRK/B US Equity | 289,161 | 66 million | 0 | 1.5 |
| JPMorgan Chase & Co. | JPM US Equity | 463,625 | 63.7 million | 0 | 1.4 |
| Johnson & Johnson | JNJ US Equity | 389,065 | 57.7 million | 0 | 1.3 |
| Visa Inc. | V US Equity | 253,080 | 53.5 million | 0 | 1.2 |