State Street's $2 Billion Loan ETF Posts Biggest Outflow Ever
(Bloomberg) -- Exchange-traded fund investors are souring on floating-rate loans amid growing bets that the coronavirus will force the Federal Reserve to cut borrowing costs.
State Street Corp.'s $2.1 billion SPDR Blackstone/GSO Senior Loan ETF, ticker SRLN, posted a record outflow of $372 million Friday. That follows a similar exodus from the $5.5 billion Invesco Senior Loan ETF, which is on pace for its worst month of withdrawals since October 2018.
The outlook for corporate loans has dimmed as traders ramp up bets that Fed policy makers will reduce interest rates to manage the economic damage caused by the coronavirus as it spreads across the world, according to Columbia Threadneedle. Floating-rate debt is particularly sensitive to monetary policy, and tends to benefit from rising rates.
"Loans tend to be very closely correlated to the outlook for the Fed," said Gene Tannuzzo, deputy global head of fixed income at the money manager. "If people think short-term interest rates are going nowhere to possibly down, this is not a very popular asset class."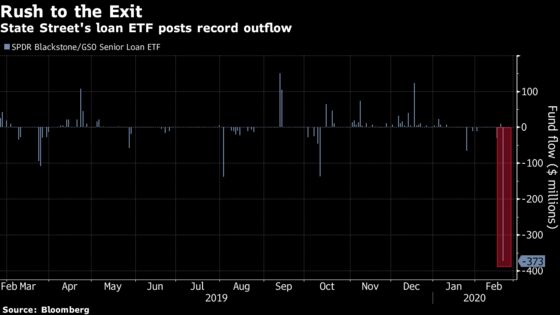 Fed funds futures show traders are pricing in two 25 basis point cuts in 2020, with the first reduction by June. Two weeks ago, just one cut was fully priced in. Fears surrounding the coronavirus accelerated Monday as reported cases outside China spiked and Italy's death count rose, spurring a rout in what investors perceived to be the riskiest assets. The SPDR Blackstone/GSO Senior Loan ETF headed for its biggest drop in three weeks.
Policy makers have indicated that rates are on hold, but that the virus poses a risk to inflation.
Loans suffered in 2019 as the Fed lowered rates three times, spurring the worst year for leveraged-loan fund outflows since Refinitiv Lipper began tracking the data in August 2003.
The start of 2020 hasn't been much kinder to loans. Investors have yanked roughly $683 million from from loan-focused ETFs so far in 2020. SRLN has led those outflows, with withdrawals totaling $437 million year-to-date.
"It seems like anything with high-yield exposure is seeing unwinding, as investors flock to safety," said Mohit Bajaj, director of ETFs for WallachBeth Capital.