State Street Quant Says Buy China Bank Stocks on Valuation Gap
(Bloomberg) -- Cheap valuations coupled with a government that has ample ammunition to bail out pockets of China's financial sector from instability makes the country's bank stocks a buy, says State Street Global Advisors.
Chinese banks, out of favor for years among investors, offer return-on-equity levels as high as any other segment in emerging markets, according to a recent analysis from Olivia Engel, chief investment officer of active quantitative equity at State Street Global Advisors in Boston.
"While investor sentiment is poor vis-à-vis Chinese banks, earnings forecasts are starting to turn upward," she said. "The resulting valuation gap among Chinese banks -- especially when viewed together with favorable quality attributes in this segment -- presents a margin of safety for investors."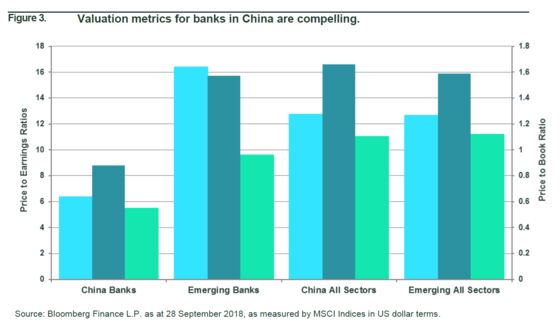 Turbulence in global equities in October and a deepening of the bear market in Chinese stocks is throwing up opportunities. Oaktree Capital Group LLC founder Howard Marks said last week his firm is looking "very actively at Chinese equities."
State Street also favors U.S. banks, where net interest margins are improving as the Federal Reserve keeps hiking rates.
"Rising interest rates are accelerating earnings growth among U.S. banks, generating attractive valuations as investor sentiment improves," Engel said. "Valuations are even more favorable among Chinese banks, where fears of widespread instability in the banking system have so far failed to materialize."