S&P 500 Keeps Getting Stuck Below 2,800
(Bloomberg) -- U.S. stocks had an easy time staging a double-digit rally to start the year. Now comes the hard part: keep the momentum going.
After soaring 18 percent from Christmas to mid-February, the S&P 500 Index has been stuck treading water for the past seven sessions. The gauge did basically nothing the first three days this week, moving less than 3.5 points each day for a total journey of 7.2 points. The last time the gauge did that little over three sessions was 14 months ago.
Optimism on growth and signals the Federal Reserve is sensitive to market conditions pushed the S&P 500 to its best start to a year since 1987. But now that those factors have been priced in, the path to further gains becomes ever more difficult as the benchmark equity gauge approaches 2,800, a level the index has failed to breach four times in five months.
"The market has been jumping over the small hurdles on the way up, but we're approaching the 2,800 line and the hurdle all of a sudden is four stories tall," said Michael Antonelli, a managing director and market strategist at Robert W. Baird & Co. "We need some serious progress in U.S.-China trade talks for the S&P 500 to breach that line. As of right now, the markets are not convinced that we're ready for new highs."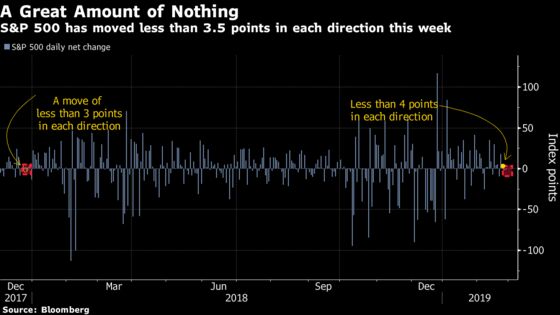 Investors' doubts were on display this week when President Donald Trump's decision to postpone the date for boosting tariffs on Chinese imports produced a meager 0.1 percent advance. Nor was there much of a reaction Wednesday when U.S. Trade Representative Robert Lighthizer dialed back expectations for a sweeping China deal.
Thursday has seen little movement as well. The S&P 500 dropped less than 1 point as investors weighed concerns over trade and geopolitical risks with a report showing the economy cooled by less than forecast last quarter.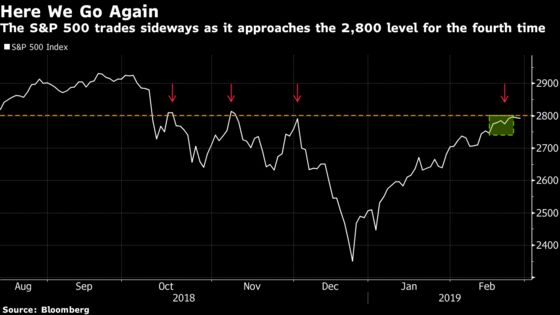 The 2,800 milestone that stopped the October, November and December rally attempts from breaking out isn't only due to technical factors. If the S&P 500 breaches 2,800, its valuation based on 2019 average per-share earnings estimates will be 16.5 times the next 12 months' earnings, demarcating a level at which some analysts say stocks become expensive.
"Even if the market closes the year higher from here, the odds are good we trade lower first," Jonathan Krinsky, chief market strategist at Bay Crest Partners LLC, said in a note to clients. "And this is as good of a spot as any from which to do so."
Options traders appear to agree with Krinsky's concerns as hedging activity has increased over the past 10 days. Total open interest among call options tied to the CBOE Volatility Index has jumped 28 percent since Feb. 18, while put open interest in the SPDR S&P 500 ETF rose by 10 percent.