Stars Align for Emerging-Market Debt as Ebbing Sales Stoke Rally
(Bloomberg) -- Bond bulls in the developing world could hardly have asked for a better start to the year.
A fiery rally in hard-currency debt that built up steam in January got a boost in February as bond sales in emerging markets dwindled, propelling the longest stretch of monthly advances in over a year and handing investors a 3.8 percent gain so far in 2019, according to Bloomberg Barclays indexes.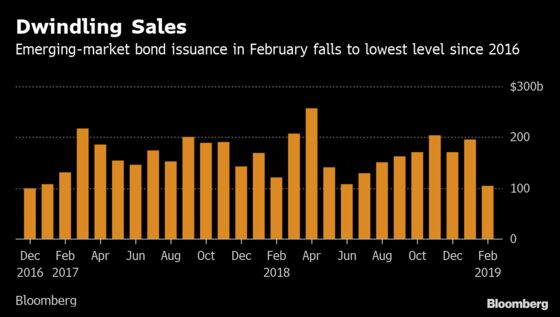 The dearth of sales -- a 14 percent annual drop in February, according to data compiled by Bloomberg -- comes even as smaller and less prolific emerging-market issuers rushed to tap the market. That suggests overall supply will remain limited and help bid up prices, according to Eaton Vance Management, which manages $423 billion of assets.
"You've almost run out of countries to issue in the dollar-bond market," said Matthew Murphy, a portfolio manager at Eaton Vance in Boston. "You have less supply and more demand, then prices go up and yields should be supported."
A dovish tilt by the Federal Reserve fueled more than $14 billion of inflows into emerging-market debt funds so far this year, according to Bank of America Merrill Lynch, citing EPFR Global. Amid the rally, Uzbekistan raised $1 billion in a Eurobond foray, while Egypt -- fresh off the heels of its latest IMF loan tranche -- locked in $4 billion in international markets.
Still, governments and companies in the developing world sold $104.5 billion of dollar- and euro-denominated debt in February, the least for any month since December 2016, according to data complied by Bloomberg.
The Bloomberg Barclays EM Hard Currency Aggregate Total Return Index advanced for a fourth day on Wednesday, extending its third monthly gain to 0.7 percent.