Starbucks Share Spike Comes Just in Time for Options Investors
(Bloomberg) -- The sudden rally that's pushing Starbucks Corp. shares to the highest level since last spring couldn't have come at a better time for options investors, with 31 percent of total call open interest expiring next week.
Trading volume spiked, and the coffee chain jumped to as high as $59.70 after Bill Ackman's Pershing Square Capital disclosed a stake worth $900 million.
The most widely held October calls have a strike price of $60, with open interest before today sitting at just over 43,800 contracts, a majority of which appear to have been purchased on Sept. 21 and Sept. 24 in a range of 23 cents to 30 cents, while shares averaged $57.17 over the same period, data compiled by Bloomberg show. With today's move in the shares, those contracts have rallied 183 percent. But that only gets them back to 17 cents, leaving a way to go for traders to break even.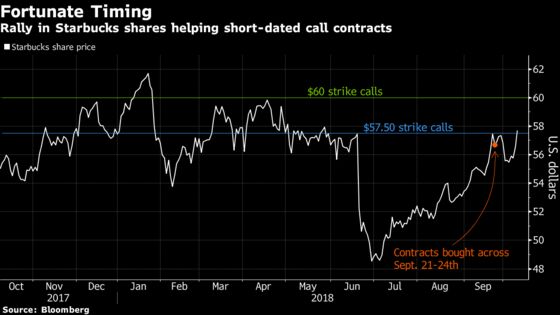 Over the same two-day period, just over 18,300 October $57.50 calls changed hands between prices of 94 cents and $1.05 per contract with at least one block of of 5,000 being bought for $1. Those contracts are up 189 percent today, only getting them back to $1.01 per contract.