Star Managers Giving Gains Back in Hottest Area of Stock Market
(Bloomberg) -- Star money managers who were raking in gains in the market's hottest sectors just suffered their worst week in two years.
The $5.4 billion Brown Capital Management Small Company Fund and the $1.5 billion Delaware SMID Cap Growth Fund, both of which beat 97 percent of their peers over past five years, sank 6.6 percent last week for their worst performance since January 2016. The $2.3 billion Alger Small Cap Focus Fund dropped 7 percent after beating its benchmark at an annualized rate of almost 10 percentage points in the past three years.
While the losses are a blip in long-term charts, they highlight the pain endured last week when equity leadership reversed. All the three funds were invested in small-cap and growth stocks, groups that led the market gains for the year before buckling. Among all the funds tracked by Bloomberg with more than $1 billion in assets, the 15 worst performing during last week's rout all belonged to the small-cap growth category.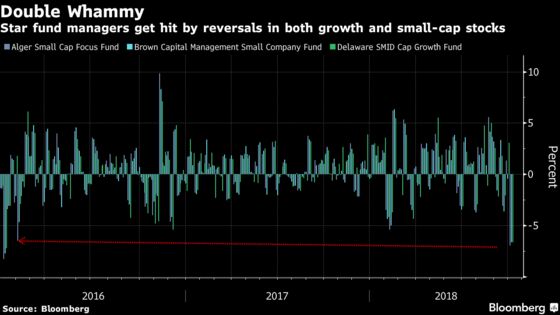 The flip-flop in the market occurred as bond yields surged to a seven-year high, underlining concern that rising borrowing costs pose a disproportionate threat to smaller firms -- more than a third of Russell 2000 members don't make any profits. At the same time, rising rates signaled a strengthening economy, an environment where growth is not dominated by just a few industries. By some measure, growth stocks last week trailed their value counterparts by the most since 2009.
Software and internet companies made up at least one fifth of the holdings at both funds from Delaware and Alger, while health care, another group with promising growth but little profits yet, accounted for at least another 20 percent, according to their latest filings. The Brown fund had 39 percent of its money invested in software developers, more than any other industries, and almost 30 percent in health care.
While a tilt toward growth and small-caps has helped their 2018 performance, it was a recipe for disaster last week. Tech and health-care stocks in the Russell tumbled at least 5 percent for the biggest losses among major industries in a reversal from the year, when their gains more than double the broad measure. Meanwhile, small-caps trailed their large-cap counterparts in another turnaround, with the Russell 2000 posting losses that were almost four times as big as the S&P 500.