Standard Life CEO Keith Skeoch to Stand Down 
(Bloomberg) -- Keith Skeoch is stepping down as head of Standard Life Aberdeen Plc, the latest high-level departure from the asset manager that has struggled since its creation in a 2017 merger.
Skeoch, who first shared the helm with Martin Gilbert following the tie-up, became sole chief executive officer last year. He'll be replaced by Stephen Bird, former head of global consumer banking at Citigroup Inc., who will likely take over by the end of the third quarter, according to a company statement on Tuesday.
Shares in Standard Life Aberdeen rose as much as 4% in London on the news.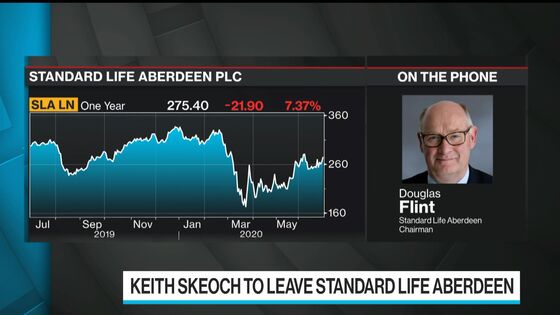 The combination of Aberdeen Asset Management and Standard Life Plc was meant to create a firm capable of competing with the industry heavyweights, especially the passive managers that are grabbing an increasing share of the market. Gilbert said the goal was to amass enough assets under management to join the "$1 trillion club." Instead, client money went in the other direction, with more than 128 billion pounds ($157 billion) of withdrawals from the merger to the end of last year.
"It's the an end of an era with both Martin Gilbert and Keith Skeoch gone -- the architects of the merger," said Ben Yearsley, investment director at Shore Financial Planning. "It's not been the most auspicious of deals, with the combined value still well below the pre-merger level."
Standard Life Aberdeen had 490 billion pounds of assets under management and administration as of April 30, down from 655 billion pounds at the end of 2017.
The struggles of Standard Life Aberdeen have been reflected in turnover in its top ranks. Gilbert himself left the asset manager's board in March. Gerry Grimstone, another key player in the tie-up, was replaced as group chairman in early 2019 by former HSBC Holdings Plc Chairman Douglas Flint.
Bird left Citigroup last year after Jane Fraser ascended to the bank's No. 2 job, which put her in position to succeed Chief Executive Officer Michael Corbat. His name later surfaced among potential candidates to become CEO of HSBC Holdings Co., a job that went to Noel Quinn.
"The appointment of Stephen Bird from Citigroup essentially moves the business on from its past without the association of being from one side of the two Scottish giants before the merger," said Ryan Hughes, head of active portfolios at AJ Bell Plc.
Flint praised Skeoch and Gilbert for "creating a platform for future growth," and said it was important to have the new CEO in place as the company prepares for the aftermath of the coronavirus.
"Whatever the post-Covid period looks like, there's going to be a huge adjustment in working practices across every business, every industry, including our own," Flint said in a Bloomberg TV interview. "To have a settled succession as we go into that, someone who can see it the whole way through," is a "very positive opportunity to take," he said.
Skeoch entered financial services in 1980 as chief economist at James Capel & Co. which was later absorbed into HSBC Securities. He joined Standard Life's asset-management unit in 1999 as chief investment officer and became the division's CEO in 2004. Skeoch was made overall head of Standard Life in 2015.
Bird will assume the role of CEO-designate on July 1, according to the statement. Once Bird takes over, Skeoch will serve out the remainder of his contract as non-executive chairman of the Aberdeen Standard Investments Research Institute.