StanChart CEO Bill Winters Eyes Fresh Plan to Revive Returns
(Bloomberg) -- Standard Chartered Plc is working on a three-year plan to improve profitability as a share slump this year puts pressure on the emerging markets lender to boost returns.
While operating expenses fell by 1 percent in the third quarter and were below estimates, its key measure of profitability is still lagging. The bank said on Wednesday that the bank will present its strategy in February to improve "financial returns" after the stock dropped by almost a third in 2018.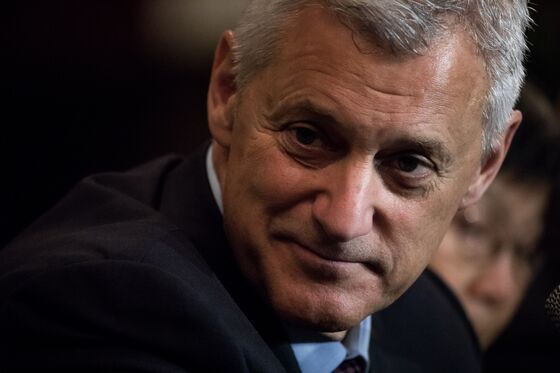 "Standard Chartered is a poster child for all the major risks circulating the sector -- global slowdown, trade warns, regulatory overhang," said Edward Firth, an analyst at Keefe, Bruyette & Woods in London. However, "we are encouraged by talk of a new plan to be announced with full year results that we expect to be far more focused on costs."
Controlling costs, coupled with an improved return on equity -- a measure of a company's profitability -- may help dispel some investor concern that Chief Executive Officer Bill Winters would need to resort to deep cuts to improve its performance. Standard Chartered's quarterly results, which also showed a third-quarter profit beat earlier, came after strong earnings from HSBC Holdings Plc this week and could boost investor confidence in the outlook for large banks.
The bank's shares surged as much as 4.7 percent in early morning trade in London after the third-quarter results.
Chief Financial Officer Andy Halford also hinted on a call with reporters that job reductions are likely as the bank is continuing to "re-position itself." There will be "some impact on people," he said, declining to give further details.
Halford said that the bank continued to cooperate with U.S. authorities on resolving the Iran sanctions probe, and that it's too early to provision for any likely fine. Bloomberg News reported earlier this month that the bank was bracing for a potential penalty of around $1.5 billion for allowing customers to violate Iran sanctions.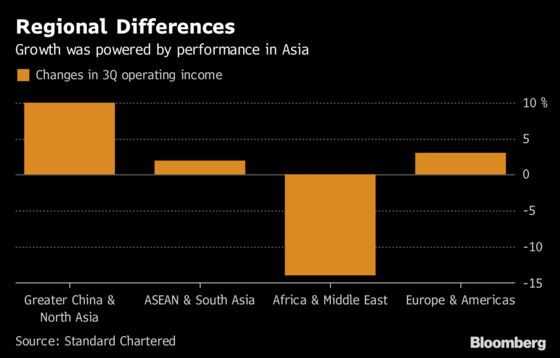 Read more: Hong Kong's mortgage market is tough for big banks
Despite global trade tensions Standard Chartered, one of the world's biggest trade-finance banks, said it is "cautiously optimistic" on global growth. Winters said in Wednesday's statement that while the firm is "alert to geopolitical uncertainties," fundamentals remain solid, the company said.
| | |
| --- | --- |
| Underlying pretax profit was $1.07 billion, ahead of consensus estimates of $976 million. | Operating income rose 4 percent to $3.72 billion. |
| Operating expenses declined by 1 percent to $2.51 billion, versus estimates of $2.55 billion. | Return on equity was 6.6 percent for the year, a 1.5 percentage point increase. |
The bank's Hong Kong income rose by 11 percent in the first nine months of the year, and it also saw what it called "good growth" in Singapore. Income growth from retail banking was powered by the two cities, it said.
Ahead of the earnings, Morgan Stanley analysts said the improved rates environment in Hong Kong would help Standard Chartered. The analysts predicted better trends in the latest quarter, though they maintained their underweight rating on the stock.