Sprawling Winter Storm Blows Into Northeast Over the Weekend
(Bloomberg) -- A swirling mess of winter weather is roaring out of the Midwest toward the Northeast, threatening to drop a blanket of snow on upstate New York, New Hampshire and Maine, to the joy of skiers, and as much as 4 inches on Manhattan.

High winds and heavy snow were moving across the Great Lakes on Friday. A winter weather advisory has been issued for New York City, Long Island and parts of New Jersey and Connecticut starting at 10 a.m. on Saturday and running until 1 a.m. Sunday.
"It's just a mess over a wide area," Brian Hurley, a senior branch forecaster with the U.S. Weather Prediction Center in College Park, Maryland. "Every winter storm has its own nature, and this one isn't going to wow us in the end with its snowfall amounts. But just the area of snow covered at six inches or more is pretty impressive."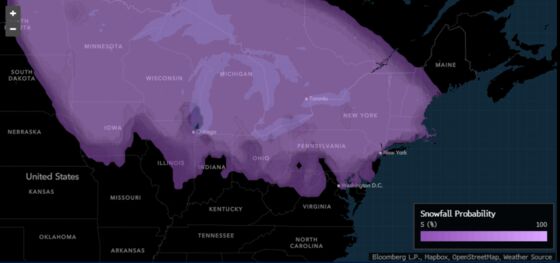 Across the U.S., 1,065 flights were canceled Friday as the storm moved east, and another 76 were scrubbed for Saturday, according to FlightAware, a Houston-based airline tracking service. A Delta Air Lines flight slipped off a taxiway in Kansas City, according to the Associated Press.
After the storm passes through New York, the forecast is for a mostly sunny Sunday with a high of 36 degrees Fahrenheit (2 Celsius), according to the National Weather Service.
It will be the first time since Dec. 2 that the New York metropolitan region has gotten more than an inch of snow, and it follows a weekend in which temperatures reached into the high 60s Fahrenheit. Overall this season, only 2.7 inches (6.9 centimeters) of snow have fallen on Manhattan's Central Park, or 5.7 inches less than normal.
Along with the snow, areas south of the storm's northern track could end up with a dangerous coating of ice. That condition could range across the Ohio Valley, into the Appalachian Mountains in West Virginia and Maryland and along Interstate 80 that crosses the region west to east.