GM Investors Brace for Flurry of News at Upcoming Investor Day and Auto Show
(Bloomberg) -- With General Motors Co. poised to present incremental updates on its financial performance and product lines in the next few days, Wall Street is keying in on a longer-term concern: the automaker's strategy to adapt to a fast-evolving market.
GM will be hosting an investor meeting Friday, just ahead of the North American International Auto Show that kicks off in Detroit next week. While the company frequently hosts analysts and investors and is a regular participant at the auto show, the back-to-back scheduling is a "highly unusual step," according to Morgan Stanley analyst Adam Jonas.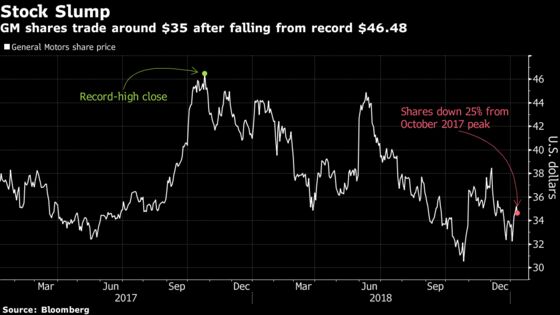 "We cannot remember any auto company hosting a capital markets day prior to the Detroit show," Jonas wrote in a note. The unusual timing would help GM "control the narrative" ahead of what is one of the automotive industry's largest gatherings of executives, designers and engineers and a venue for vehicle debuts and announcements, he said.
Whatever financial guidance or product announcements GM may have in store, analysts are more interested in the bigger picture. U.S. carmakers are navigating a fast-changing global industry, with China, the biggest market in the world, mired in a slump, and trade wars weighing on demand. They're also dealing with rapidly evolving consumer preferences and the steady advent of electric and self-driven vehicles.
The shifting industry dynamics have prompted analysts to suggest automakers rethink the old way of doing business. The ideas range from name and brand changes to large-scale mergers, spinoffs and restructuring.
"Repositioning/re-messaging is perhaps the most important aspect of the GM story right now, even more than guidance," Citi analyst Itay Michaeli wrote in a note, saying that the company should re-segment its North American pickup franchise away from the remaining consolidated auto operations. "In our view, this would far better classify the GM story into three compelling, unique and related buckets (pickups, autonomous vehicles and unique turnaround levers)," the analyst said.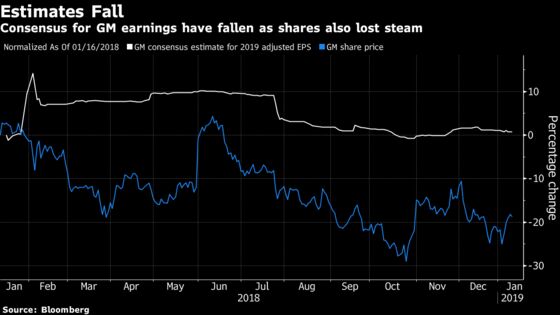 GM may also provide guidance for 2019, and possibly longer term. While Michaeli expected the outlook to prove more resilient than what bears have called for, Buckingham Research analyst Joseph Amaturo said the company's forecast for 2019 may miss consensus, and fall below 2018 levels. "However, GM's management could suggest automotive free cash flow of at least $4 billion, which would be ahead of our current 2019 free cash flow estimate," Amaturo said.
The consensus analysts' estimate for GM's 2019 adjusted profit has come down to $5.92 per share from a high of $6.71 in February last year, while the company's shares have dropped more than 18 percent during the same period.
Jonas also is concerned about GM's outlook for 2019, saying that Morgan Stanley's estimates for the year are about 30 percent below consensus, with expectations for significant declines in international profit and margin erosion in North America amid a global slowdown in auto sales.