Spotlight on Asia Tech, Finance Stocks for Profit Rebound
(Bloomberg) -- There's broad consensus in the major investment firms' 2020 outlooks this month that Asia's companies will see a significant improvement in earnings growth next year.
For Societe Generale SA, the most likely source of that growth will be from technology and financial stocks.
"The earnings cycle is now showing signs of picking up," strategists Roland Kaloyan and Frank Benzimra wrote in a report Friday. "A lower base, improving earnings momentum, turnaround in the tech cycle and easing monetary conditions should help the market achieve 10% EPS growth in 2020."
For more 2020 outlooks:
Earnings Is Where to Find Some Comfort (For Now): Taking Stock
Tech in Focus as 2020 Outlooks Roll In: Taking Stock
Third-quarter earnings for Asian shares outside Japan showed visible signs of rotation, with once high-flying consumer companies disappointing while the reverse was true for technology firms, the strategists said. Semiconductor sales are increasing sequentially, just as memory-chip prices stabilize and inventories fall, they wrote.
Taiwanese tech stocks are best positioned to take advantage of the trend as they are more "quality" oriented, with lower earnings volatility and less impact from memory-price fluctuations, while South Korean firms are more cyclically oriented, according to SocGen.
Taiwan Semiconductor Manufacturing Co. has narrowly outperformed Samsung Electronics Co. this year, with a 40% gain as both chipmakers raced well ahead of the MSCI Asia ex. Japan Index.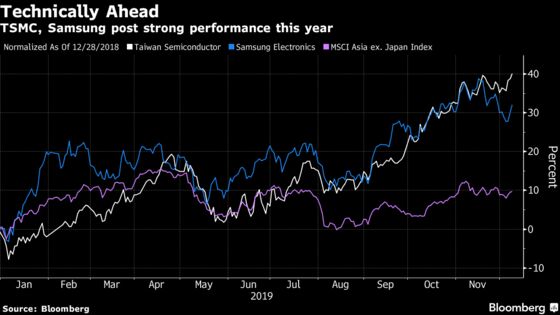 The outlook for financials is also brightening, as asset quality has shown signs of stabilizing, central banks have little room for more monetary easing and growth is normalizing, the French bank said.
"The case for a recovery in China banks looks convincing, with NPL ratios stabilizing and limited room left for margin contraction," the strategists wrote. India equities also look poised to benefit on an easing of risk aversion in financials.
MSCI Asia Pacific Index up 0.3%
Japan's Topix index up 0.5%; Nikkei 225 up 0.4%
Hong Kong's Hang Seng Index little changed; Hang Seng China Enterprises little changed; Shanghai Composite little changed; CSI 300 down 0.2%
Taiwan's Taiex index up 0.5%
South Korea's Kospi index up 0.4%; Kospi 200 up 0.6%
Australia's S&P/ASX 200 up 0.4%; New Zealand's S&P/NZX 50 down 0.4%
India's S&P BSE Sensex Index little changed; NSE Nifty 50 little changed
Singapore's Straits Times Index little changed; Malaysia's KLCI down 0.3%; Philippine Stock Exchange Index little changed; Jakarta Composite up 0.1%; Thailand's SET down 0.5%; Vietnam's VN Index up 0.4%
S&P 500 e-mini futures down 0.1% after index closed up 0.9% in last session