Investors Reassured by Spotify's Buyback After Dull Earnings
(Bloomberg) -- Spotify Technology SA's move to repurchase shares helped reverse earlier losses Monday, as investors search for new catalysts given last week's dull earnings report.
The announced buyback of as much as $1 billion of the Swedish company's stock came as a surprise, Raymond James analyst Justin Patterson admits in a note to clients, as "such an action is typically more common among mature companies." The act is management's way of signaling confidence in the wake of recent share price performance and investor frustration over third-quarter results, he said.
Spotify has seen about $8 billion wiped from its market value since its peak in late July, amid a retreat of technology stocks around the world.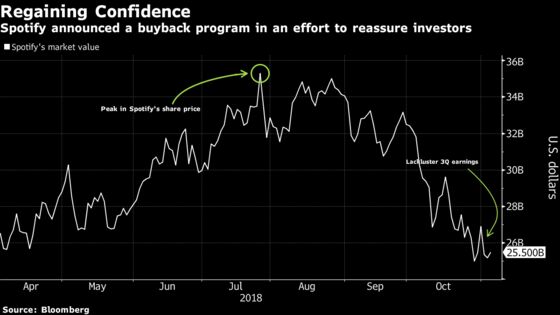 Spotify has "a number of options" for its capital, according to a spokesperson. "We believe buying back our stock is a good investment given the long term value we see in the company," they said.
The option to repurchase stock beginning in the fourth quarter may not have come as a total shock to all, as the company hinted at the idea during its second-quarter earnings call.
In response to a question about the prioritizing of free cash flow, Chief Financial Officer Barry McCarthy said if "it becomes clear that the business is overcapitalized, then you should expect us to use that cash productively to buy back shares in the marketplace."
Given that the program lasts into April 2021, Raymond James expects investors will focus more on the pace of the repurchases than on the announcement itself. But to fully convey confidence in the business, its margin levers and the size of the subscriber opportunity, Patterson hopes "to see share repurchase activity sooner rather than later."
Shares of Spotify -- still the world's largest online paid music streaming service -- climbed as much as 2.8 percent intraday Monday.